MAY 21, 2021
What makes an appliqué foot an appliqué foot? No matter what type of appliqué – satin stitch, blanket stitch, invisible, or decorative stitch — the foot needs to have an indentation on the sole. This allows the fabric, appliqué shape, and stitching along the edges to easily move under the foot without dragging. Another feature of an appliqué presser foot is good visibility of the needle and stitching area. Open and clear feet are best to use for stitching appliqués. This post looks at several BERNINA presser feet that are used for a variety of appliqué techniques.
Clear Appliqué Foot #23
This unique presser foot was designed specifically for narrow (2 mm) satin stitch appliqué. It has a clear foot works for small-scale appliqué designs and for appliqués stitched on children's clothing. The short sole of the foot has a 2 mm channel under the needle area. This channel widens behind the needle, making it easy to follow curves, and stitch the edges of appliqué shapes. Foot #23 can also be used for Blanket stitch appliqué with widths up to 5.5 mm.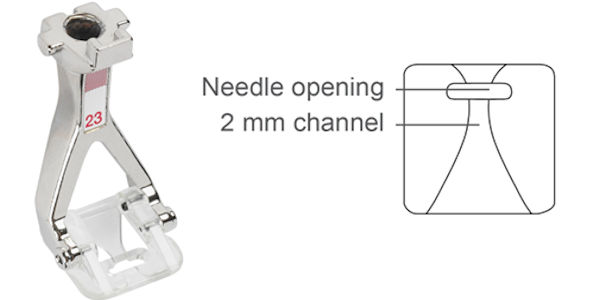 Click here for a fun and useful appliqué project using Clear Applique foot #23.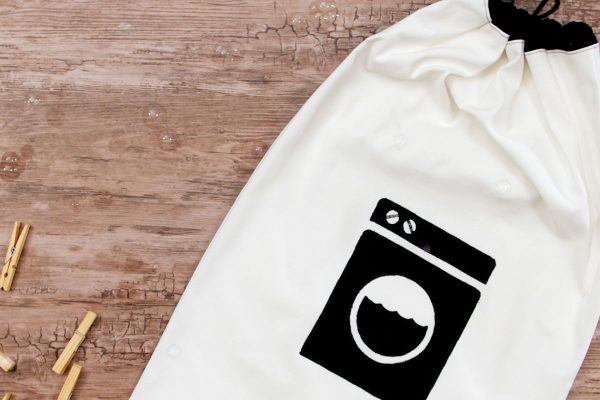 Open Embroidery Foot #20/20C/20D
Open Embroidery foot #20 is open between the two toes, giving you a clear view of the needle, letting you see exactly where it is stitching. For perfect placing of the stitch on the appliqué shape, place the edge of the shape along the inside edge of the right toe and adjust the needle to the far right. The stitch should be mainly on the shape with the right swing of the needle stitching into the background fabric.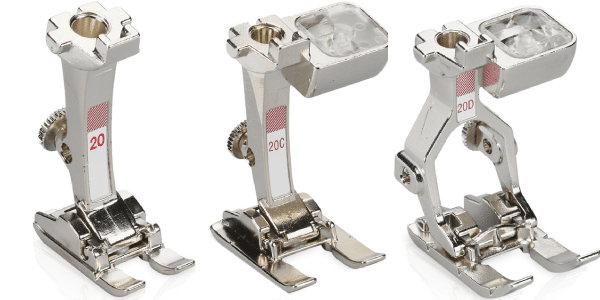 The sole of Foot #20 has a wedge-shaped indentation to allow the build-up of fabric and thread to smoothly feed under it. Click here for instructions for Blanket stitch appliqué.
Clear Embroidery Foot #39/39C
Another appliqué presser foot is Clear Embroidery Foot #39/39C. The sole of this foot has the same wedge-shaped indentation as Open Embroidery Foot #20/20C/20D. The foot does not have an open front, but the clear sole lets you see the fabric and the entire stitching area.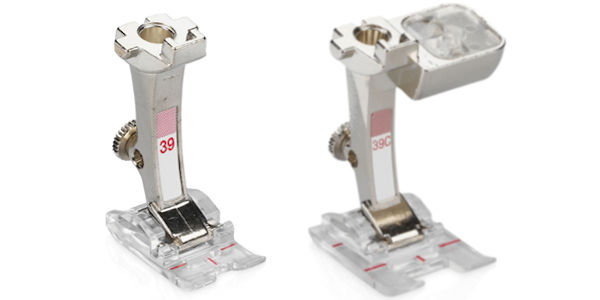 Foot #39 may be used for all types of appliqué but is especially good for decorative stitch appliqué when using satin stitch designs. Click here to see tips for using Clear Embroidery Foot #39/39C for techniques other than appliqué.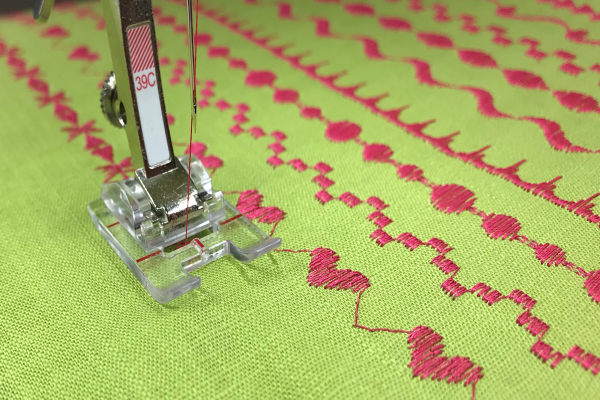 For more information on BERNINA presser feet, see The Big Book of Feet at your local BERNINA store.
Difficulty level: Beginner

Seasons: all seasons

Techniques: applique