JUNE 10, 2019
When I say foot control, I'm not talking about the pedal you step on to power your machine. This post is about how I organize and store my BERNINA presser feet and accessories. One of the most often asked questions when I am teaching is, "How do you store your presser feet?" Over the years I tried everything from tackle boxes to multi-drawer hardware chests to putting organizer trays in drawers. They all worked to organize and store most of my feet, but not all of these methods had a place to store the larger accessories. (I should let you know that I have ALL of the BERNINA feet and accessories, plus duplicates of some, so finding something to fit them all is no easy task.)
Hold Everything
I came up with my current organization method a couple of years ago and it is the best I've had so far. It holds everything I have and involves a couple of compact desktop cubes that I bought at a local craft store. When I went to find a link to share with you, it seems that the cubes are not available anymore but I decided to share my method anyway because you may be able to adapt this to other drawers or containers in your sewing space.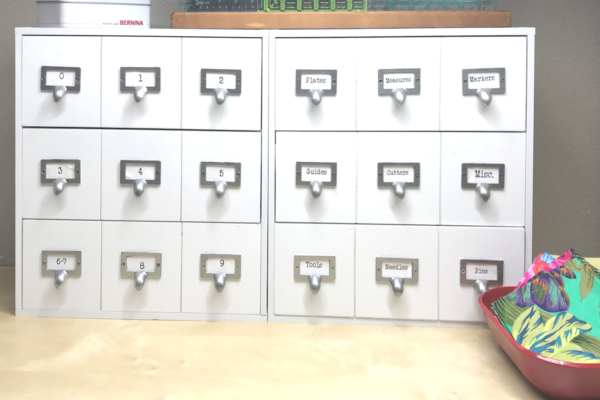 Compact Cubes
The desktop cubes are 14 ¼" x 14 ¼" x 7 ½" and have what looks like nine drawers. In fact, each cube has three drawers, but came with dividers to separate each drawer into 3 sections. The first thing I did after I assembled the cubes is cut a piece of felt to line the bottom of each of the three drawers to provide a bit of protection for the feet. I used spray adhesive to adhere the felt to the bottom of the drawer. Next, I added the dividers – two in the first two drawers and one in the bottom drawer.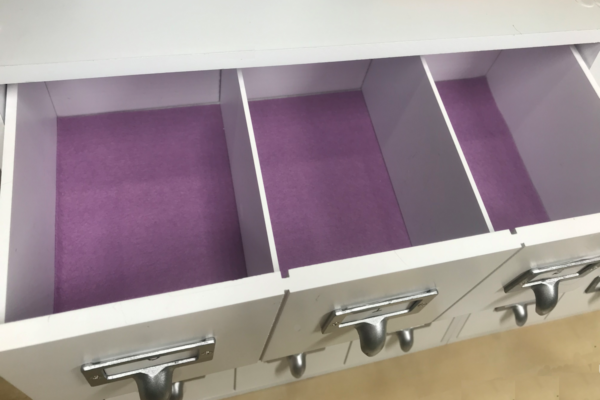 Labeled Drawers
I printed numbered labels, 0-9, for the front of the drawers and here's what is different from my other attempts at organization. The ideal way to store each foot or accessory is in their own little labeled compartment but I've never found a storage unit that would accommodate that. So, I divided the feet into numbered groups: single digit feet in the first section, teen feet in the second, twenties in the third, and so on. Dividing them into groups still provides a home for them so I know where they belong and I can easily find a particular foot when it's time to use it. I also like that the cube is a nice compact place to store them.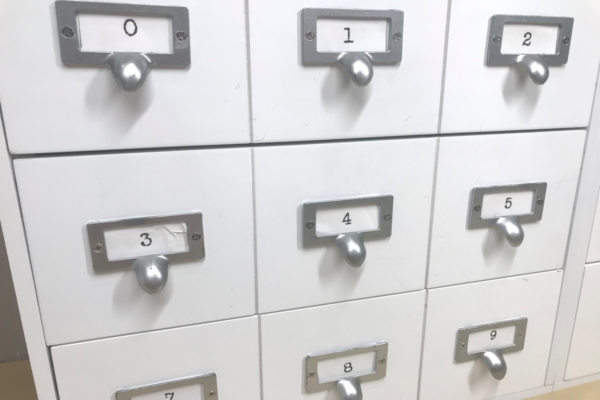 The bottom drawer is divided into two sections – one is labeled 6-7 and easily holds the feet with sixty and seventy numbers and the other two are labeled 8 and 9. Because I did not put the divider between the 8 and 9 sections, it is large enough to hold my bias binders, ruffler and other large pieces as well as the feet that go with them such as 95 and 95C.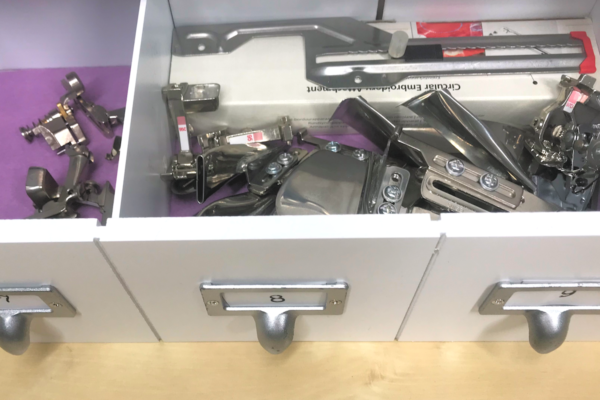 More Storage
The second cube on my table holds things such as stitch plates, seam guides, and tools used to secure attachments to my machine. There's also room to hold other sewing notions such as small rulers and tape measures, a variety of fabric markers and other miscellaneous notions.

This method works for me, but I am always looking for even better ways to store my BERNINA presser feet and accessories and I'd love to hear how you store yours. Please let me know in the comment section below.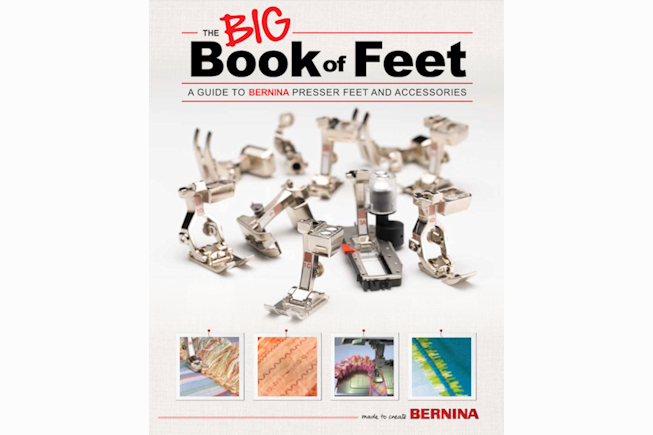 Difficulty level: Beginner

Time to Complete: Evening

Seasons: all seasons

Techniques: sewing