Welcome to the Essential Ruler Quilting Challenge! The challenge starts with rulerwork quilting straight line designs. If you missed the first introductory post with the supply list, please watch the Essential Ruler Quilting Challenge introduction video, download the supply list and "I'm All In" social badge.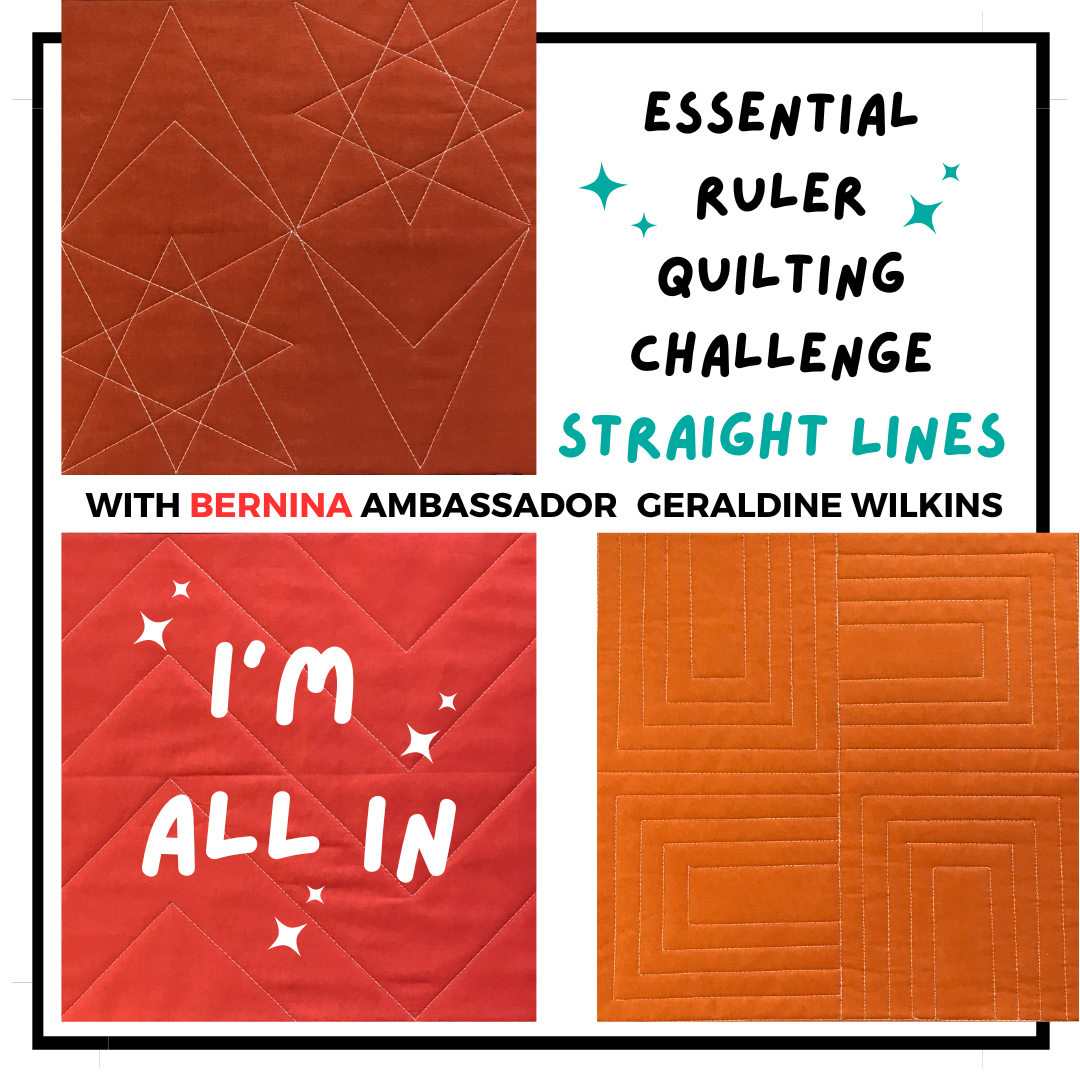 Join the challenge and download the image above. Share it on social media. Let quilting friends know about the challenge. Use the hashtag #rulerquiltingchallenge
Essential Ruler Quilting Challenge – Lines
A straight ruler has numerous possibilities. The ruler quilting challenge includes three rulerwork designs and stitching techniques using a straight ruler.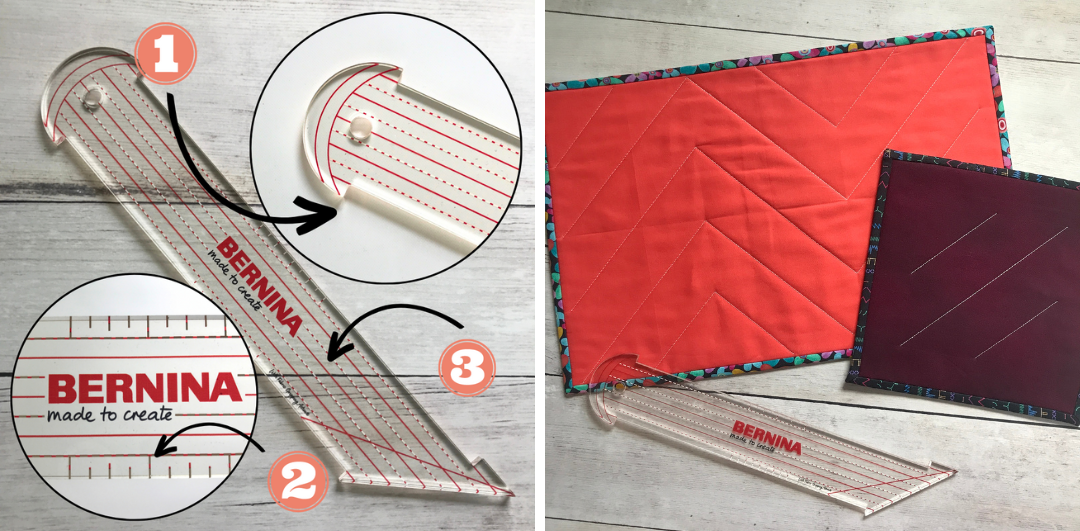 Rulerwork With A Straight Ruler
1- The same extension at the curve and points of the ruler indicates a 1/4" distance from the ruler's long straight edge or the needle position.
2 – The short lines, in the middle of the ruler and perpendicular to the long lines are a 1/4" apart.
3 – The long parallel lines are 1/4" apart. The first line is 1/4" away from edge of ruler.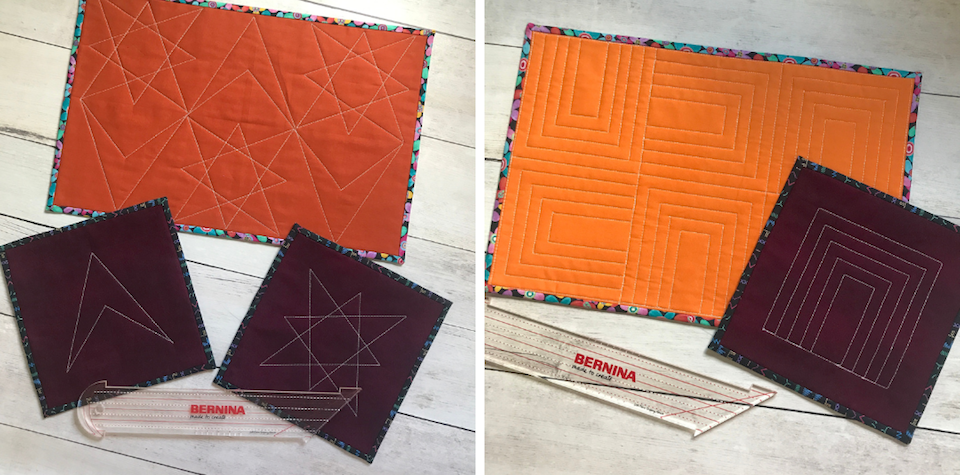 Step One
Make the small quilt sandwiches as indicated in the supply list.

Step Two
Mark a 5-inch square on the fabric. Next, mark a small line 2-1/2" from the corner on all sides of the 5" square.

Step Three
Set up a home machine or a longarm for free-motion ruler quilting. I used a bernette 79 Sewing and Embroidery machine. Learn how to attach the bernette ruler foot in this video tutorial.
Step Four
With the small practice quilt sandwich stitch the three-line zigzag, echo, star and arrowhead patterns. Watch videos below.
Step Five
Apply the stitching techniques to a larger quilt sandwich to create a zigzag design.
Rulerwork Zigzag Design
Rulerwork Echo Design
Quilted echoes are a good way to add texture to a quit. Echoes may be spaced 1/4", 1/2", 3/4" or 1" apart or more. Let's stitch them a 1/2" apart.
Rulerwork Arrowhead & Star Designs
Essential Ruler Quilting Challenge Part Two
Let's continue the Essential Ruler Quilting challenge next week by stitching ruler quilted circle designs. One design includes free-style free-motion in the center of ruler quilted circles.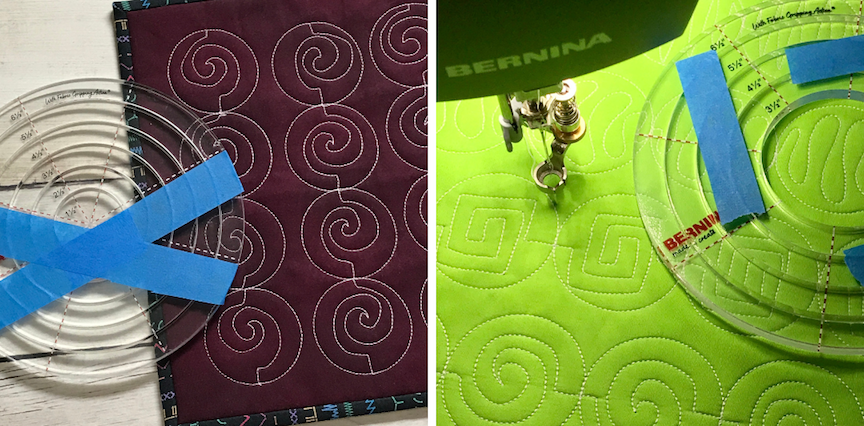 Difficulty level: Confident Beginner

Time to Complete: Weekend

Used Material:

Adjustable Ruler Foot #72S, basic sewing supplies, batting, bernette ruler foot set, cotton fabric, cutting mat, fabric marking pen, iron

Projects: quilt, quilting

Seasons: all seasons

Techniques: free-motion quilting, free-motion quilting, quilting, rulerwork