SEPTEMBER 29, 2017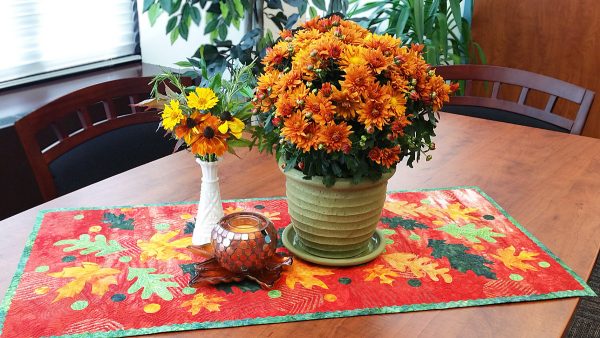 Fall is here and the temperatures are dropping and the trees are starting to turn gorgeous shades of copper, red, gold and green. Join BERNINA Ambassador, Heidi Lund, and create a fabulous fall leaf table runner that you can use again and again.
Materials to Make a Fall Leaves Table Runner
The size of this table runner will be determined by your preference. I made this sample one 8.5″ wide by 34″ long.
Fabric for background (can be cotton/twill/decorator etc.)
Coordinating cotton fabrics for fall leaves
Backing fabric (I used a flannel that would be a soft touch on my furniture)
Double sided fusible web
Cotton Batting
Coordinating rayon thread in various colors
90/14 Topstitch or Gold Machine Quilting sewing machine needle
Spring action scissors for ease of cutting
Steam a Seam II or other double sided fusible web
Wavy blade rotary cutter
Download the

 

Fall Leaf Tablerunner Templates here
Sewing machine (I use a

 

BERNINA 770 QE)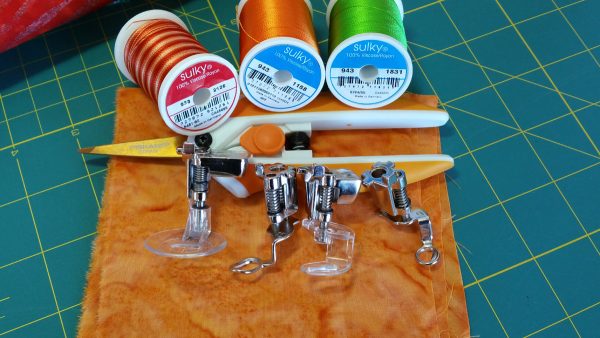 How to Sew a Fall Leaves Table Runner
Start picking your fabrics. I first selected the colors I wanted for my fall leaves, then I picked my background fabric, and lastly I picked a flannel backing fabric.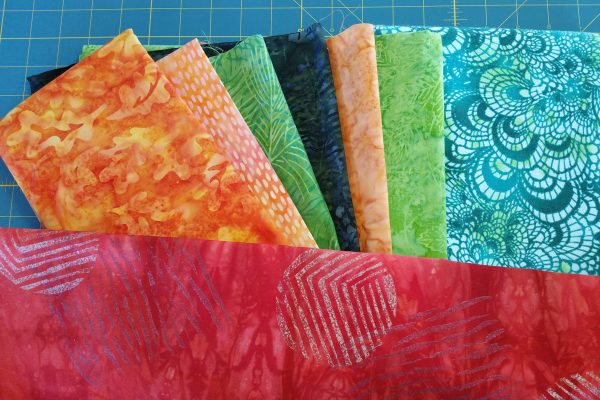 Take the leaf templates and trace them onto a double sided fusible web.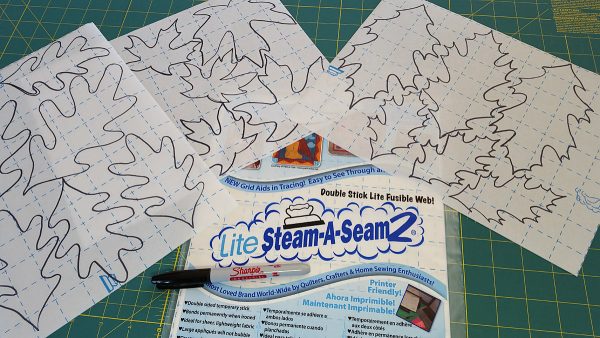 Tear away one side of your fusible and iron the remaining onto your leaf fabrics using medium. Once fusible is cool, cut fused leaves out one by one.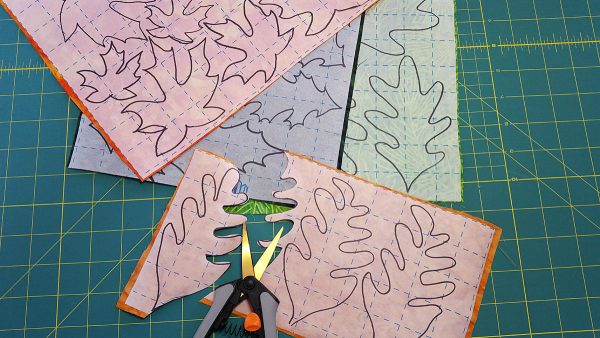 Lay your cut leaves out on the background fabric in a pattern that pleases you. There are not any rules when doing this. Your leaves can go in one direction, or a swirling pattern or even a serpentine pattern. Once laid out how you like them, remove fusible paper and press with your iron to fuse into place without steam. If you are having trouble removing the fusible paper, use a straight pin to score it which gives you a place to start.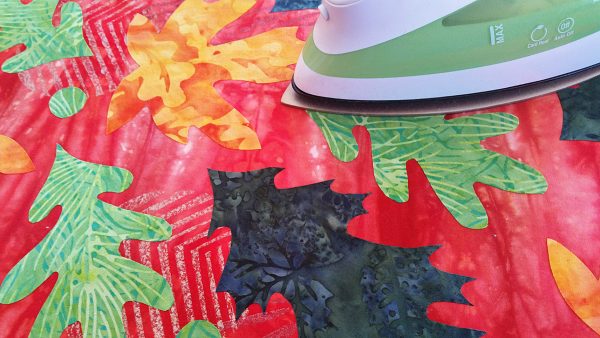 Make your quilt sandwich by layering your backing fabric, your cotton batting and then lay your background with fused leaves on top.
Set your machine up for free-motion. Make sure machine is cleaned and well oiled. Insert a 90/14 topstitch needle. Load a bobbin with the same rayon thread that you are using on top.
Drop your feed dogs and attach your Quilting foot #29 for free-motion quilting, or another free-motion quilting foot of your choosing. Next, lower the feed dogs and decrease the tension on your machine to 3.75.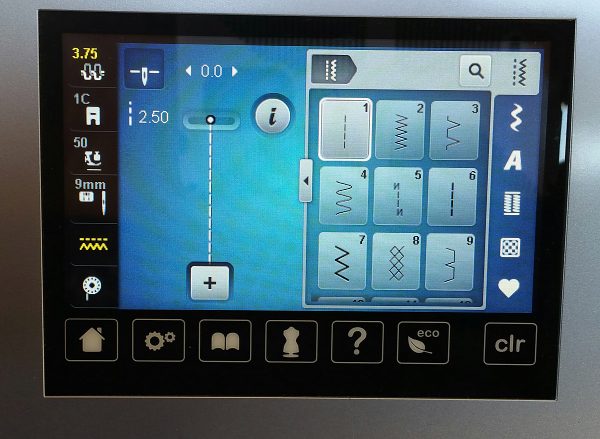 Start your free-motion stitching by pulling your threads to the top and hold on to them with you left hand before you start stitching.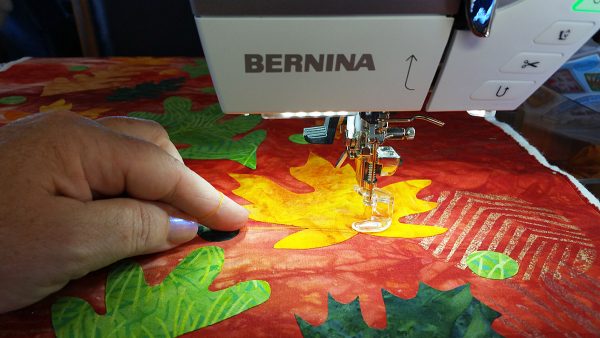 Lower your presser foot and freemotion stitch your leaves into place. I tend to sew all the same color leaves with coordinating thread, then move on to the next color leaves and change the thread to match.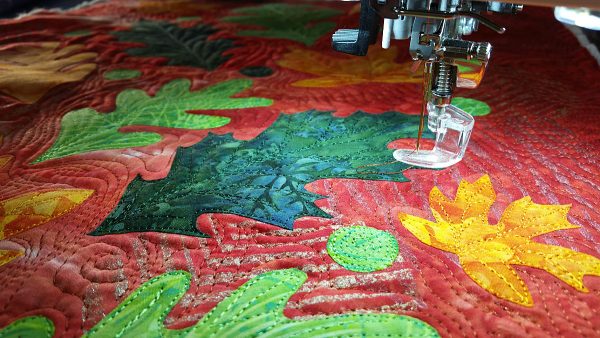 Once you have all your leaves stitched down, free-motion stitch the background of the table runner to hold all layers together.
Next, firmly press your table runner with a hot iron, then trim your table runner up evenly to your desired size.
Now decide what color fabric you would like for a binding and iron more double sided fusible web to the back of it. Using a curved blade rotary cutter, trim 1 ½" strips. Next, fold the binding and press together with a medium iron.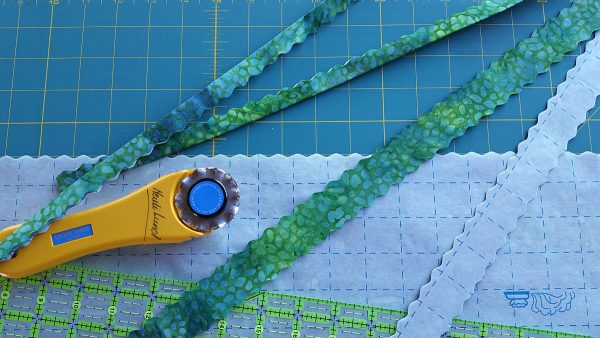 Let the binding cool a moment, then remove the backing paper and fold binding around the edge of your table runner. Press binding into place one edge at a time and trimming corners either straight or mitered.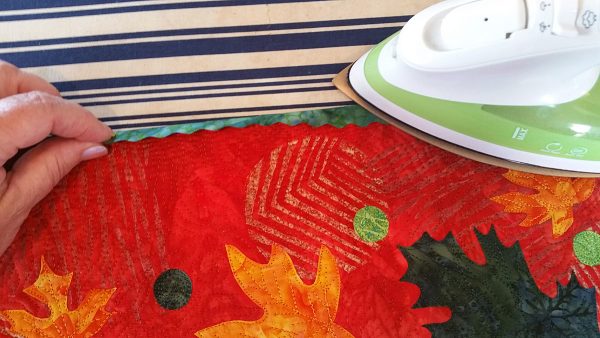 Take the table runner back to your sewing machine and stitch binding down using freemotion. This will insure it will not come up, even after washing.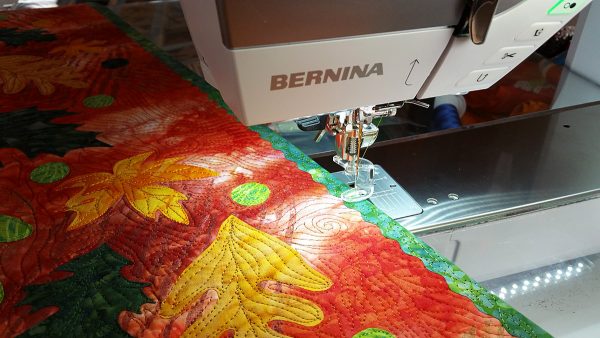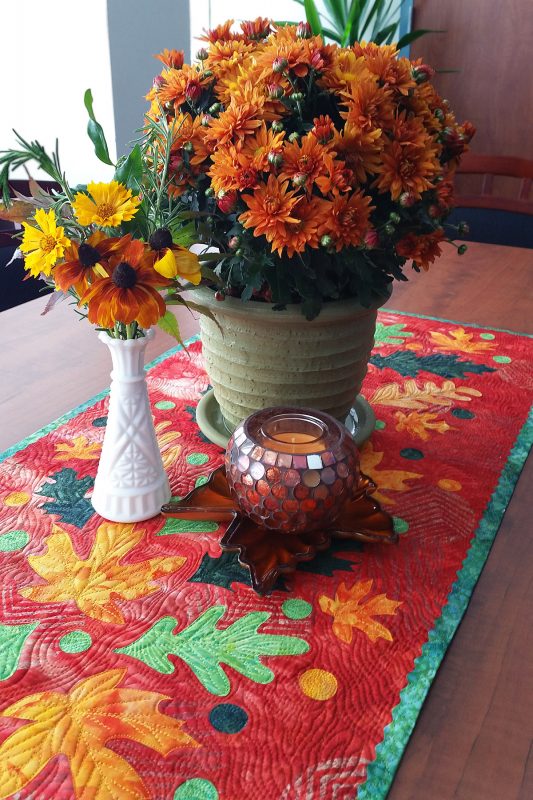 Enjoy your new fall leaves table runner. They are really beautiful, can be made in any combination of colors.
Difficulty level: Intermediate

Time to Complete: Weekend

Used Material: coordinating thread, cotton batting, cotton fabric, cutting mat, fusible web, rotary cutter

Projects: home décor, table runner

Seasons: fall

Techniques: applique, decorative stitches, free-motion quilting, quilting