NOVEMBER 9, 2017
Hello Everyone,
It's that time of year when family and friends are reunited to enjoy being together! We give thanks for great memories and are grateful for what's to come. For those of you hosting Thanksgiving dinner this year, or want to spruce up the dining room table for the month of November, AGF has an amazing table runner tutorial for you called "Give Thanks"! This is a fun fussy cutting project that it pretty quick to whip up! We cut out letters from the "Joyeux Alphabet" print from Joie de Vivre fabrics and sewed them together to create the phrase "Give Thanks!" We fussy cut varies painterly fabrics by Bari J and fused them to the table runner to create a elegant scene of florals, birds, and butterflies. Get your free-motion foot ready to quilt gorgeous meandering swirls to make the fussy cut elements pop off your runner.
Since November is all about giving, we have a great fabric giveaway featuring the fabrics in this project! See details at the bottom of this post, and good luck!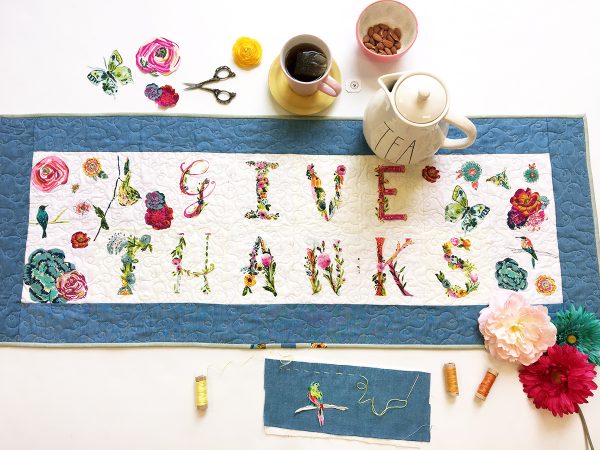 Finished table runner measures approximately 18″ x 46″.
Materials to Make the Give Thanks Table Runner
Step 1: Fussy Cutting Letter 
To fussy cut my letters I used Dritz Clear Template Plastic. Cut out a 5 3/4″x 6 1/2″ rectangle from your plastic and place on top of each letter you need to fussy cut. With a fabric marking pen trace your template onto the fabric and cut out all your letters.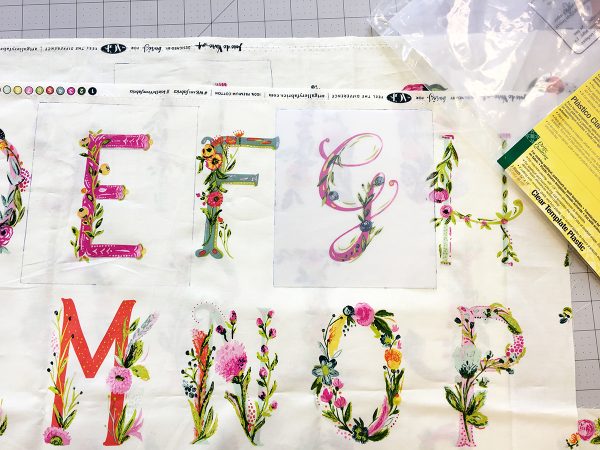 Sew your letters together spelling out "Give Thanks." Sew two 5 3/4″ x 6 1/2″ rectangles from Fabric B to each side of  the word "Give" and one 5 3/4″ x 6 1/2″ rectangle to each side of the word "Thanks." Sew both rows together. Use your Patchwork foot #37 to piece together your rectangles for perfect 1/4″ sewing.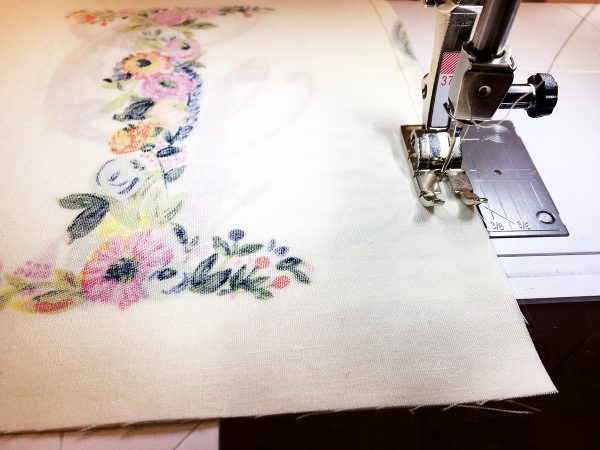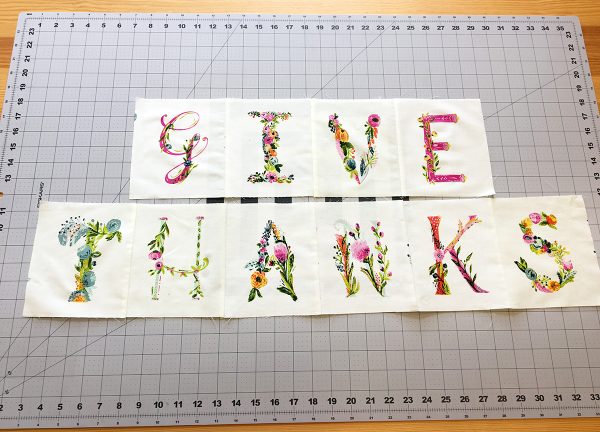 Step 2- Fussy Cutting the Background
Take all of your fat quarter fabrics and apply Steam-A-Seam to the back of your fabrics. Cut out various birds, florals and butterflies from your fabrics.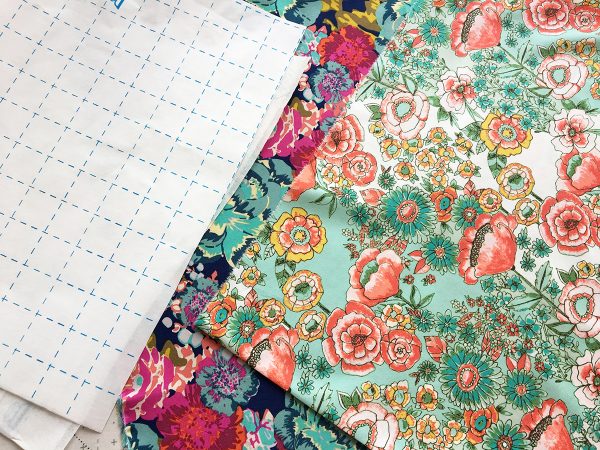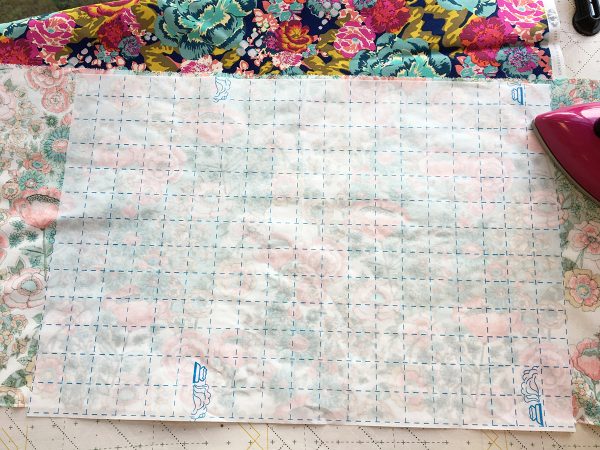 Peel off the backing paper and start sticking your elements into place. Press with iron to secure your pieces to your table runner.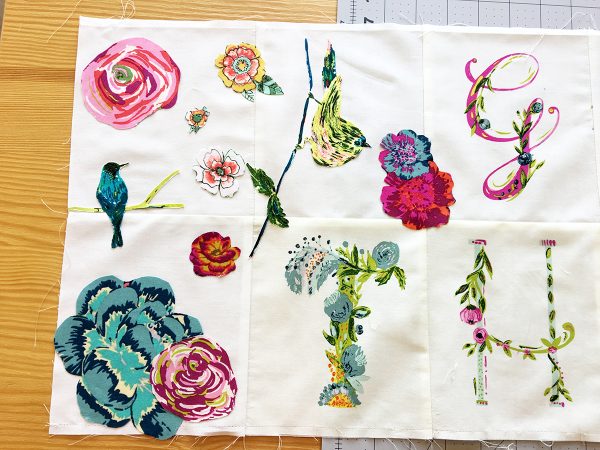 Step 3- Sewing the Borders and Quilting
Sew your 3 1/2″ x 43 1/2″ strips from Fabric C to the top and bottom of your tablerunner. Press seams open and finish sewing your borders by sewing a 3 1/2″ x 18 1/2″ strip from Fabric C to each side of your runner.
Make a quilt sandwich with your quilt top, batting and backing. Choose a quilting thread that will show off the beautiful florals in your runner. We choose a soft pale pink that pops on the yard dye fabric and blends in on the center of the taberunner to show off the fussy cutting.
Attach your BERNINA Stitch Regulator to assist you in whatever free motion quilting you choose. Here is a great video for beginner free motion quilters.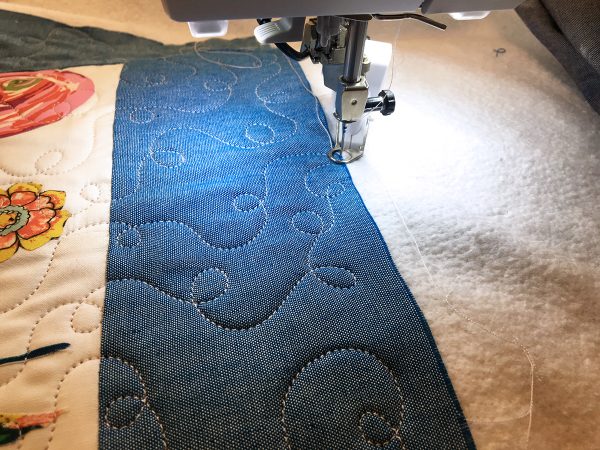 To bind our quilt we used the refreshing frosted sage solid denim. Use whatever binding method that you prefer to finish up your runner!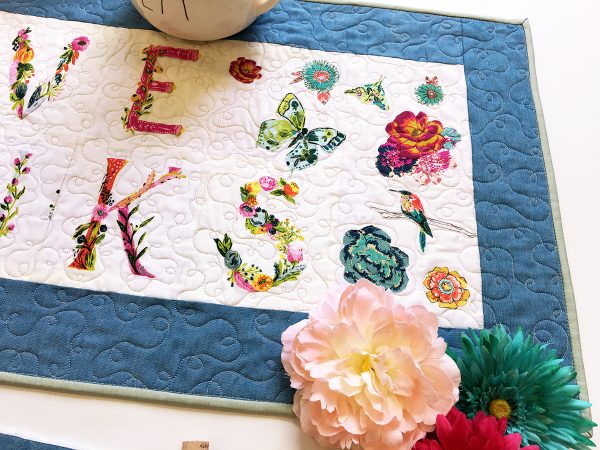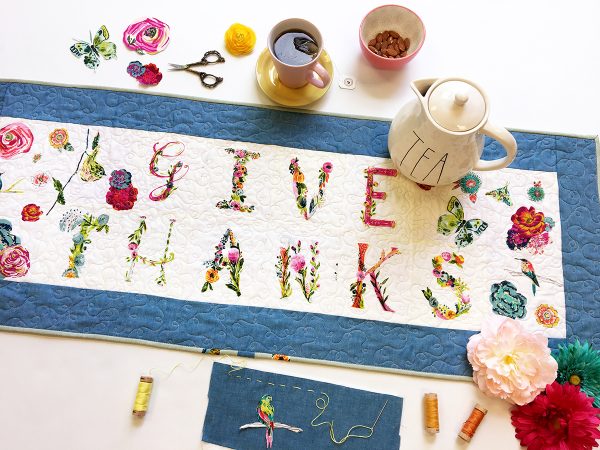 Give Thanks Fabric Giveaway!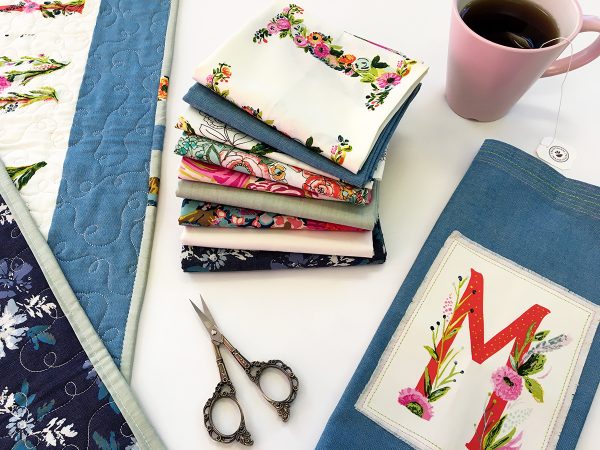 We wish you all a great November! One lucky WeAllSew reader will win a stack of fabrics used in this project. To enter our giveaway, just post a comment below and tell us how you plan to celebrate Thanksgiving this year.
The giveaway is open to residents of the 50 United States and the District of Columbia. One comment per fan. Comment must be submitted to the WeAllSew.com blog by November 15, 11.59 pm Central Time. Winner will be chosen randomly. Winner will be notified by email and will have 48 hours to contact to claim the prize.
Happy Sewing,
AGF
Difficulty level: Intermediate

Time to Complete: Evening

Used Material: coordinating thread, cotton batting, cotton fabric, fusible webbing, plastic template, scissors

Projects: home décor, table runner

Seasons: fall

Techniques: applique, free-motion quilting, patchwork, quilting