JULY 2, 2021 CORIN WRIGHT
In this tutorial, I am going to show you how to upcycle your favorite dresses and skirts by adding pockets. How many of you automatically get excited about a dress once you realize that it has pockets? I know I do!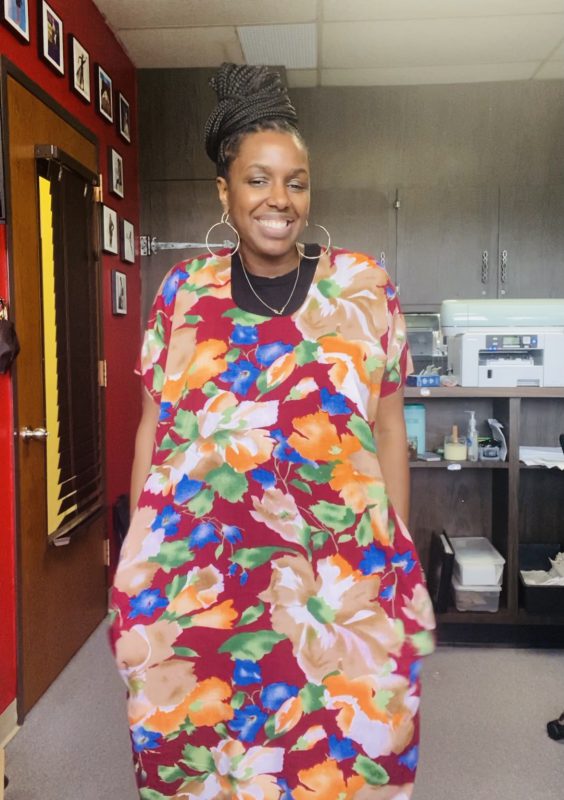 Materials to Add Pockets to a Dress or Skirt
A dress or skirt with side seams.  Preferably at least 1/2-3/4″ seam allowance
A pocket pattern or another garment that you can create a pattern from
1/4 yard of fabric that is a similar weight to the dress/skirt that you're adding the pocket to
Straight pins
Scissors
Ruler or measuring tape
Seam Ripper
Sewing machine (I used the

 

BERNINA 480)
Iron
It's Time to Learn How to Add Pockets!
Steps to Add Pockets to a Dress or Skirt
Determine Your Pocket Placement


You want to try on your garment to find the perfect placement of the pocket.  The top of the pocket is normally at the hip bone. Place your pin where the top of your pocket will lay.

Cut Out Your Pocket


If you're using a pre-made pattern, go ahead & cut 4 pocket pieces out.  If you are tracing a pattern from a pocket in one of your garments make sure you add a 1/2″ seam allowance around your pattern.

Measure the Length of the Pocket

Measure the length of the pocket pattern.  This length will be the amount that you need to open up in your dress side seam.

Open Your Side Seam


Using your pin from step 1 measure down the amount of the length of the pocket from step 3.  Use your seam ripper to open your side seam in between pins

Pin Your Pocket to Your Dress


Right sides together, pin your pocket along the seam of the opening in the dress.  You should have 4 individual pieces pinned in.

Stitch


Using your sewing machine, stitch along the seam

Close Pocket


Pin and sew around the pocket to close the pocket

Press


Press the seam allowance towards the pocket

Top Stitch


With the seam allowance pressed into the pocket topstitch along the pocket opening.
Now you have a dress with pockets! Enjoy.
Difficulty level: Beginner

Time to Complete: 60 minutes

Used Material: basic sewing supplies

Projects: fashion

Seasons: all seasons

Techniques: altering, garment sewing, pockets