February 27, 2014
WeAllSew
Many of you know about the BERNINA Stitch Regulator (a.k.a. BSR), a very clever presser foot with a laser "eye" that reads the movement of the fabric as it passes under the foot. When the BSR is activated you can see the red light shining on the fabric, just behind the opening in the sole. I've been free-motion quilting for quite a while, but it's nice to have the BSR handy for when I'm out of practice and need more than just a short warm-up. (Sadly, my free-motion skills aren't what they used to be.) This accessory helps even out my stitches, compensating for my inconsistent – too fast, too slow, oops! too jerky – movement of my project.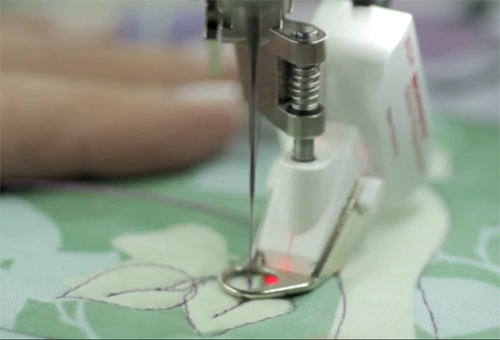 Here's something you might not know about the BERNINA Stitch Regulator: It can be used without the foot control. How? By operating the machine via the Stop/Start button conveniently located on the front of the machine. Why, you might ask, would I want to do that? So I can sit cross-legged on the floor while I stitch, with the whole room acting as my sewing table to support the weight of my quilt. (I know it sounds odd, but really – I put my machine on a big box, about 6″ off the floor, and that's a comfortable position for me when I'm quilting.) 
Here's a short video about the BERNINA Stitch Regulator, including tips on the differences between Modes 1 and 2. Enjoy!