JULY 21, 2021 JULIE BRIDGEMAN
Welcome friends! As we transition back to school and work, we need to start thinking about packing lunches again. Not the most exciting thought, but we can add some fun and excitement with these reusable sandwich and snack wraps.
To start, find fabric that energizes you and makes you want to shout, "This is going to be a great day!" Take it one step further and make a matching mask or even better, use your leftover mask-making fabric. Have I inspired you? Let's go sew!
Sewing Machine Set-Up
Materials to Sew a Sandwich Bag
Steps to Sew a Sandwich Bag
Step 1: Prepare Fabric for Your Sandwich Bag
Following the manufacturer's directions, fuse the stabilizer onto the backside of your cotton fabric. I am using OESD Fusible Woven because it is lightweight and adds body without making the fabric stiff. I use a medium setting on my LauraStar iron to fuse in place. Make sure the fusible is face down on the fabric to prevent a sticky mess on your iron!
Now, turn fabric right side up. I am using a beautiful Anna Maria Horner fabric. I chose this fabric because with the large print and many colors, each wrap I make will look different from one another. The picture at the beginning of the post shows 3 wraps using this fabric. See how the middle one looks so different?
Place the waterproof fabric on top. There are many options for waterproof fabric, including a variety of vinyl material. I am using Procare Food Safe Waterproof Fabric, which is both waterproof and food-safe. Two other good options are ripstop nylon and oilcloth. With right sides together, clip along the sides using Wonder Clips. We are using clips rather than pins because pins will leave holes in waterproof fabric. Place two clips side-by-side when you reach 6" from the starting point. This will help remind you to stop sewing. We need to leave an opening to turn the wrap right side out.
Step 2: Time to Sew Together
Attach Zigzag Foot with Non-Stick Sole #52/52C to your machine.
Select the Needle Up/Down icon on the machine screen so that the needle will stop in the down position. I am using Mettler Silk Finish Cotton Thread 50 wt in white.
Remove the first clip and start sewing with a 1/2" seam allowance using the 1/2" mark on the stitch plate as a guide. Remember to take a few backstitches at the start and end of sewing to secure.
When you reach 1/2" from each corner, stop with needle down and pivot. This is a good time to use your Free Hand System. If you pivot the fabric and find you're over the 1/2" mark, pivot back and take another stitch. If you pivot and find you're under the 1/2" mark, pivot back and take a backstitch. With the Needle Down option and the Free Hand System, making small adjustments is quick and easy. Remember to stop 6" from the starting point where you have your two clips side-by-side.
Step 3: Turn Right Side Out
Before turning right side out, trim the corners to remove bulk. Be careful you don't cut into the stitches! I like to cut 3 times in each corner – once at a 45-degree angle and then once on each side of that cut.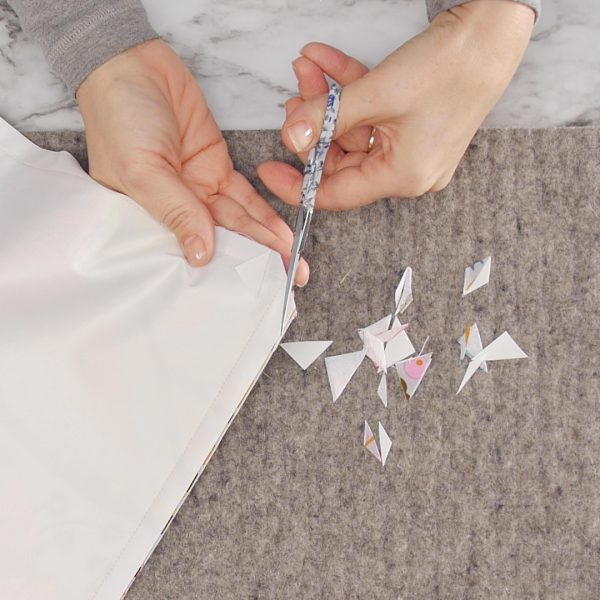 Now it's time to turn the wrap right side out, or what a friend of mine calls pretty side out. Use a stiletto or OESD Point and Press Tool to gently push out corners.
Press with the cotton fabric side up to flatten the side seams. The OESD Point and Press Tool is helpful to push out the seams from the inside before ironing them flat. When you get to the opening, fold the seam allowance and press.
Tip: Do not press directly on the waterproof fabric. If you need to press the waterproof fabric, use a pressing cloth.
Step 4: Topstitch Fun
Here you can add some extra color and fun! Find a contrasting thread color that works with your fabric. I am using Mettler Silk Finish Cotton Thread 40 in color 0120 – a beautiful, sunny yellow. Mettler's 40 weight thread is a little thicker, and is my go-to when I want a stitch to show but not overpower. Another fun one to try is Mettler Cordonnet Polyester 30 wt. Attach Edgestitch Foot #10/10C. Select Straight Stitch #1, increase Stitch Length to 3 mm and adjust Needle Position to -4. If you want your thread color to really stand out, select Triple Stitch #6. With the Triple Stitch, you will need to finish the stitch pattern before turning a corner. Practice on a scrap piece first if you have not done this before. The pattern is forward, back, forward.
Place wrap under the foot so the center blade is butted up against the fabric edge. Use the handwheel to check needle placement. Adjust to -5 or -3 if you prefer. Start stitching!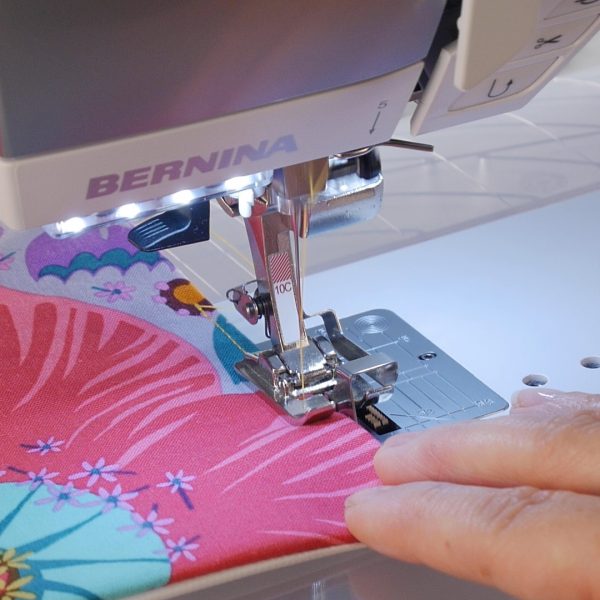 Same as we did earlier, stop near the corner with Needle Down and pivot. This time you want the center blade of the foot up against the fabric when you pivot and start on the next side. This topstitch is not only for decorative purposes but also encloses the 6" opening.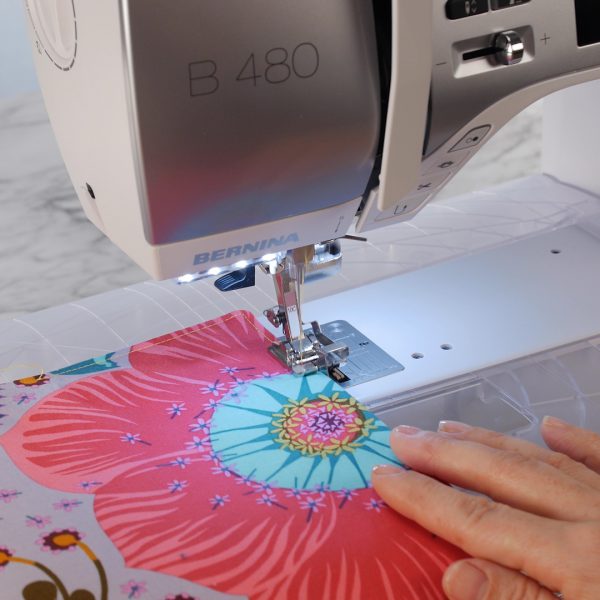 Step 5: Hook and Loop Tape Time
Find your 2" hook and loop tape. The rough side is the hook side and the soft side is the loop side. For this project, it doesn't matter which side goes where. Separate the two pieces and apply temporary glue onto the backsides. I am using Roxanne Glue-Baste-It.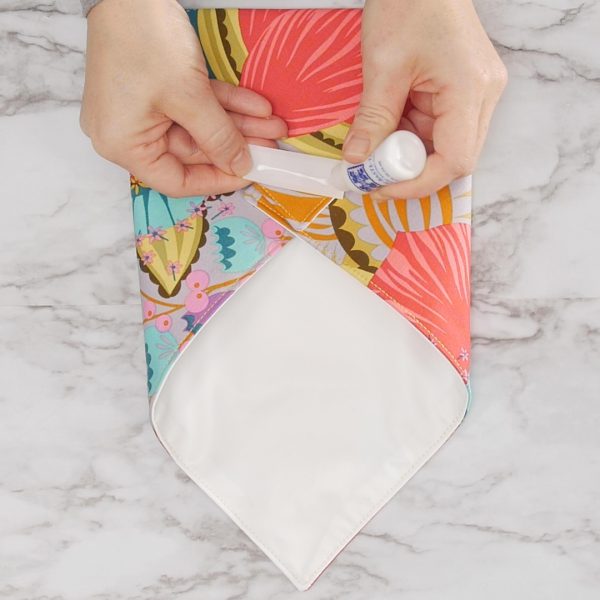 Place one piece in a corner on the cotton fabric. Place the other piece in the opposite corner, but on the waterproof fabric side. In the picture below, I folded my wrap to give me a visual but you don't need to do this. Wait a couple of minutes for the glue to dry.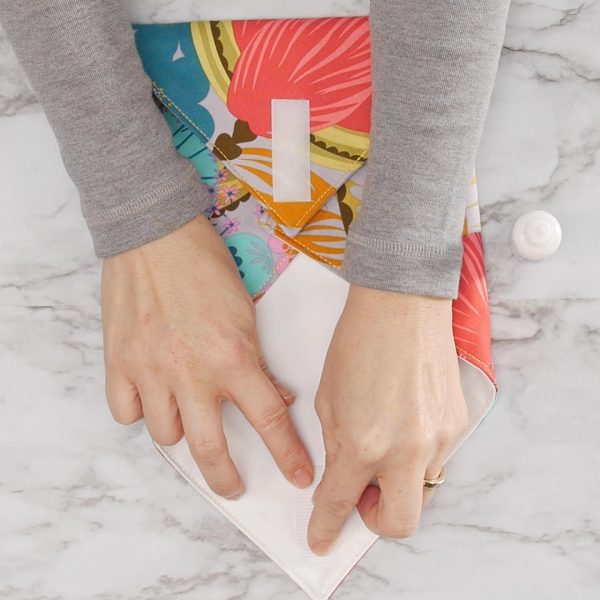 Attach Piping Foot #38, sometimes known as the "uneven foot". If you have been sewing hook and loop tape with your Reverse Pattern Foot #1/1C or an all-purpose foot, you are going to love this! You'll notice the foot has two toes – the left toe is much thicker than the right toe. The foot is designed this way to level uneven surfaces, such as when sewing piping. The thin, right toe is placed on the thick fabric creating an even sewing surface. This will make sense when you sew the hook and loop tape.
Select Straight Stitch #1 and press the "clr" tab on your machine screen. We want to reset everything back to the defaults.
Change upper thread back to white to match hook and loop tape color. Place tape under foot so that it is under the right toe and butted up against the left toe. Stitch!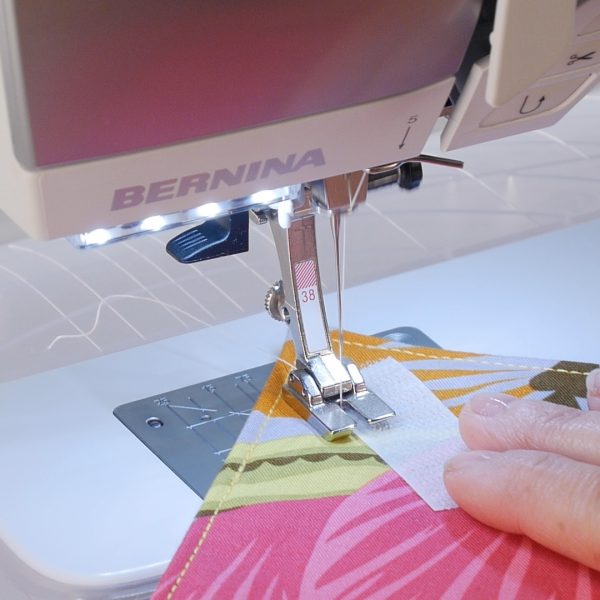 At corners, pivot with the needle down and use your Free Hand System.
Do the same for the other piece. Sewing hook and loop tape is so easy with this foot! When you create an even sewing surface, you prevent those wonky stitches that make your project look amateur.
My last tip is for those who are bothered by the stitching on the outside corner where you sewed the hook and loop tape. If you're like me, you think, "How can I conceal the stitching around the hook and loop tape?" One way is to change your bobbin thread and use a matching thread or an invisible thread. I tried stitching with my Sulky Invisible Polyester Thread in the bobbin. It worked great! Remember the bobbin thread is what will show here.
Another way is to add something, such as ribbon, a label, or a large button.  Some fabric lines now carry coordinating jacquard ribbon. Also, leather and woven tags are very popular right now. You can have custom ones made at etsy.com for a reasonable price.
It's a wrap! (Sorry, I couldn't resist!) Now the chore of packing lunches just got a little brighter with these fun sandwich bags. Place the sandwich diagonally on the inside of the fabric. Fold the two non-hook and loop tape corners over the sandwich, and then fold the secure the two ends with the hoop and loop tape.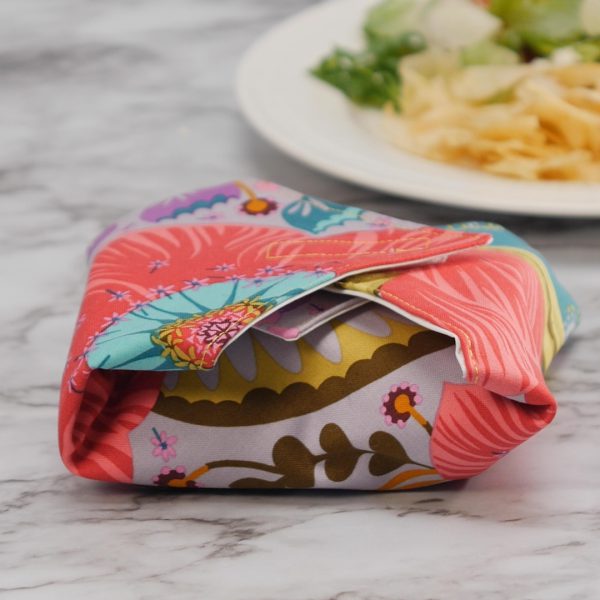 Find fabric that puts a smile on your face, and start sewing and enjoy the process!
Difficulty level: Beginner

Time to Complete: Evening

Used Material: 13" fabric squares, 2" hook and loop tape, iron, pressing cloth, stiletto, temporary glue, thread, wonder clips, woven stabilizer

Projects: sandwich bag

Seasons: all seasons, Back to School

Techniques: sewing