Hello WeAllSew readers,
It's Minki Kim, and you can find me on Instagram @zeriano and MinkiKim.com. I also design fabric for Riley Blake Designs, and I have my own line of sewing patterns. I am excited to share this Mini Coin Purse tutorial today.
Finished size: 3 1/2″ wide x 3 1/2″ height x 1 1/2″ deep
Materials to Sew a Mini Coin Purse
Quilting cotton for exterior: (2) 6" x 6"

Quilting cotton for lining: (2)6" x 6"
Woven fusible interfacing: (4) 6" x 6", such as Pellon SF101
Zipper: 8", nylon preferred
Cotton ribbon: 1/2" x 2 1/2" for tab
Download the

 

Mini Coin Purse template
Embroidery floss (optional)
Notes:
Seam allowances are 1/4″ unless otherwise noted

RST = right sides together

Fabrics used: M

y

 

IDYLLIC

 

collection for Riley Blake Designs
Preparation to Sew a Mini Coin Purse
1. Fused the interfacing on the wrong side of the exterior and lining panel. Trace the Mini Coin Purse template on the wrong side of each panel and cut out along the traced line.
Attaching the Zipper
2. With the right side up, place the exterior panel on your sewing table. With the right side down, place the zipper along the round edge and pin in place.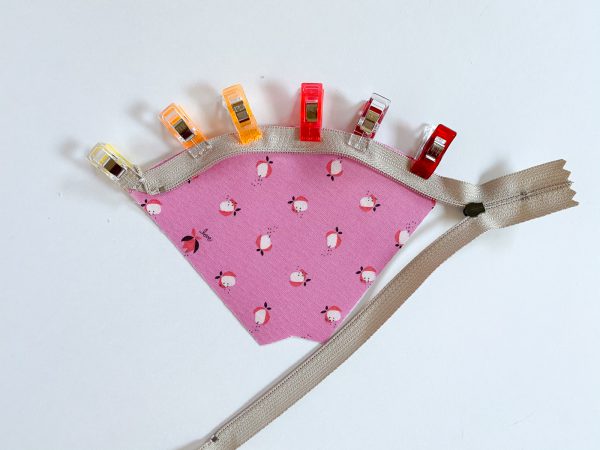 3. Stitch the zipper to the exterior panel using a zipper foot.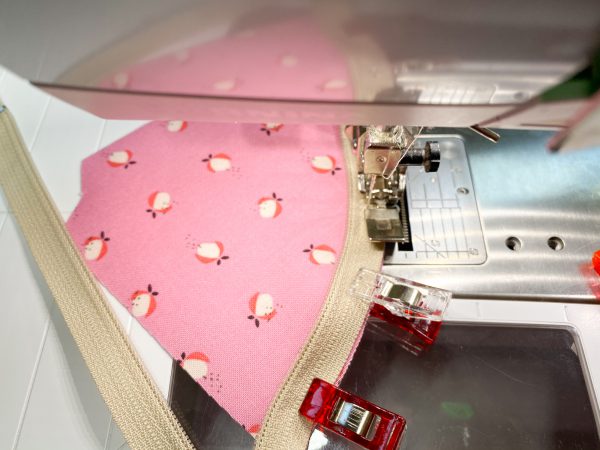 4. With right sides together, place the lining on the zipper tape. Pin in place and stitch along the pinned edges.
5. Repeat the steps for the second zipper tape.
Assembling the Pouch
6.Lay flat the pouch as shown. Fold the cotton ribbon in half and slide in one side of the pouch exterior. Pin in place matching raw edges. Make sure to leave the zipper open.
7. Stitch the side together, leaving an opening on the lining.  Trim off the excess zipper tape.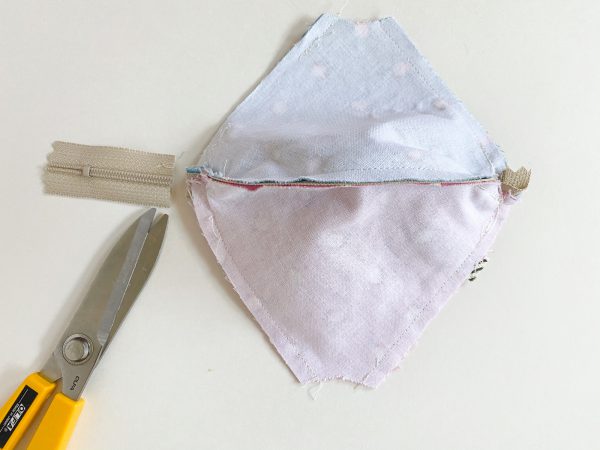 8. Pinch the ends of an opening together to flatten the material. Match up seams and pin well. Sew together along this edge. Make sure to backstitch at the beginning and end of the seam for strength. Repeat on the 3 remaining sides.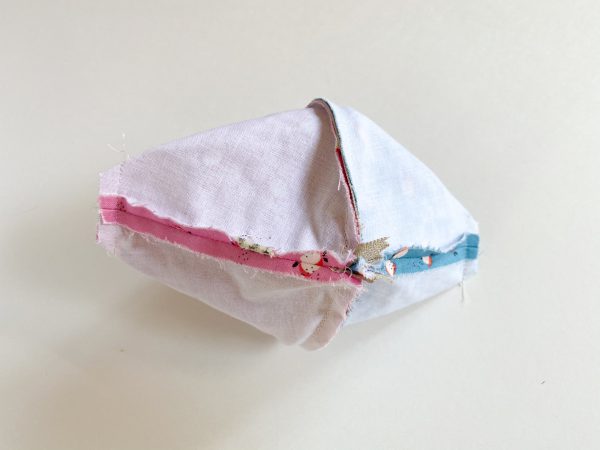 9. Turn right side out through the opening and hand stitch the gap closed. Then tuck the inner pouch into the outer and press everything nice and neat. Hand stitch around the opening (optional).
Difficulty level: Intermediate

Time to Complete: Evening

Used Material: cotton ribbon, quilting cotton, woven fusible interfacing, zipper

Projects: pouch, purses

Seasons: all seasons

Techniques: crafts