PAT BRAVO
With Mother's Day on the way, the best way to say "I Love you Mom" is with a quilted postcard made with English Paper Piecing. 
I always wanted to make a handmade postcard and I thought this would be great timing to make for all mothers, aunts and grandmothers out there.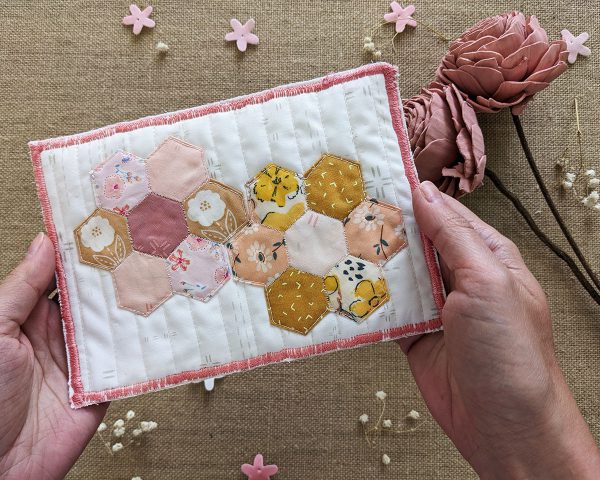 This project features Patty Bassemi's latest collection Tails and Threads, Pat Bravo's Matchmade fabric Indication Gold, Sharon Holland's Shine On fabrics and combined with our AGF's Decostitch Elements.
You're going to love making this cute postcard. Now let's get started.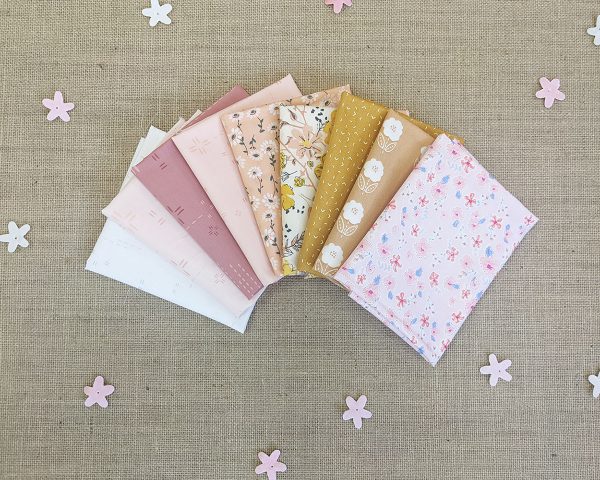 Materials Needed to Make a Mother's Day Postcard
Fabric
Fabric A TAT39910 F8
Fabric B TAT39906 F8
Fabric C MTM9200 F8
Fabric D SHO70914 F8
Fabric E SHO70907 F8
Fabric F SE720 F8
Fabric G DSE728 F8
Fabric H DSE719 F8
Fabric I DSE727 F8
Additional Materials Needed
9" x 9" rectangle of batting
Quilting and sewing thread
Embroidery thread
Embroidery needle
Paper scissors
Steam a seam double-sided fusible interfacing
Medium weight interfacing

Cutting Directions
Two (2) template 1 from fabric A.
Two (2) template 1 from fabric B.
Two (2) template 1 from fabric C.
Two (2) template 1 from fabric D.
Two (2) template 1 from fabric E.
Two (2) template 1 from fabric F.
One (1) template 1 from fabric G.
One (1) template 1 from fabric H.
One (1) 8 1/2'' x 6 1/2'' from fabric H.
One (1) 8 1/2'' x 6 1/2'' from fabric I.
Instructions to Make a Mother's Day Postcard
Step 1
Start by cutting out the hexie template that you are going to use for fabrics A through H.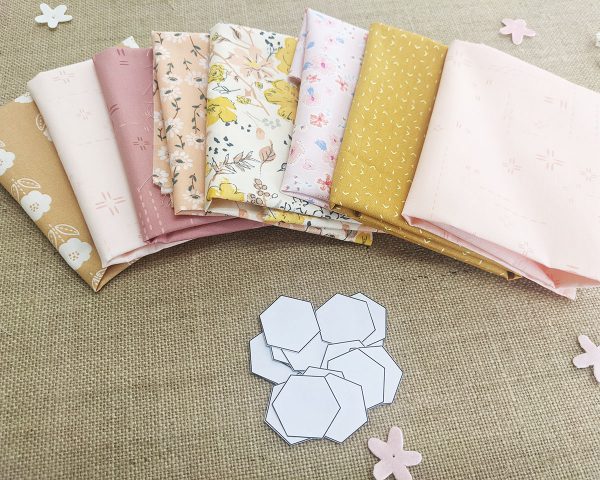 Step 2
Use the hexie template with the 1/4" seam allowance included to trace your pieces. That way, your seams are all even.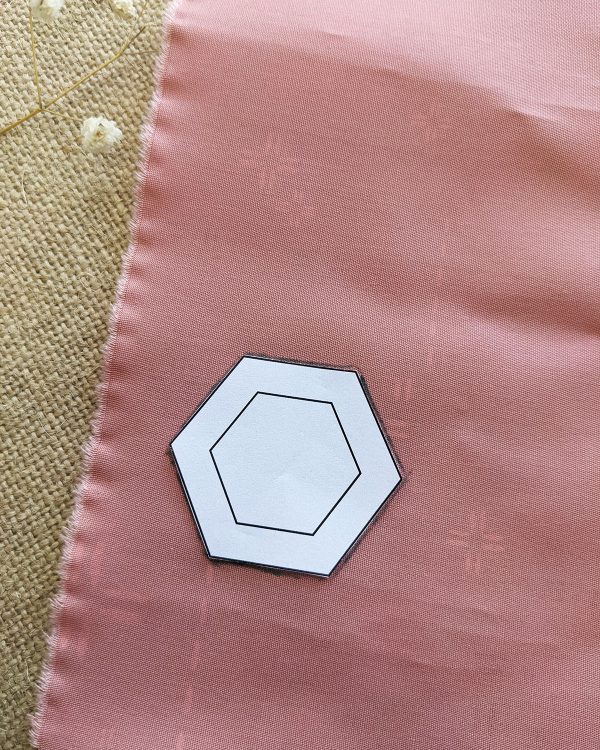 Step 3
Once you have cut out your pieces take your other hexie templates and apply a light dab of glue and put your paper hexie on your fabric.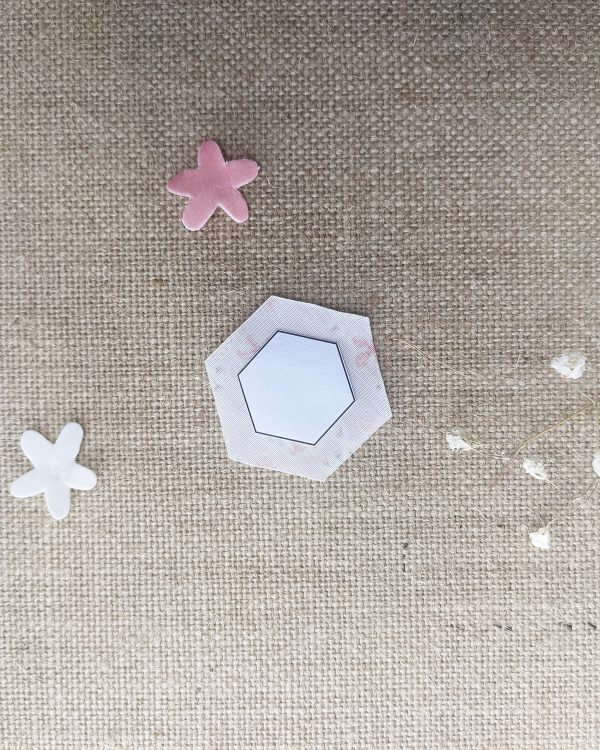 Use your finger or a bone folder/presser to tightly crease each edge along the paper.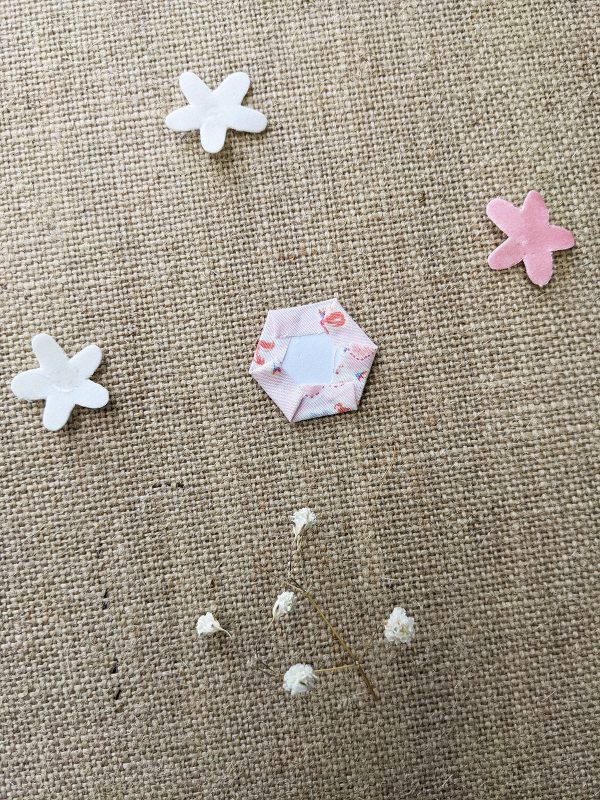 Repeat this method with all of your pieces.
Step 4
To make your first EPP flower, take two (2) fabric A, two (2) fabric B, two (2) fabric F and one (1) fabric G following the image below.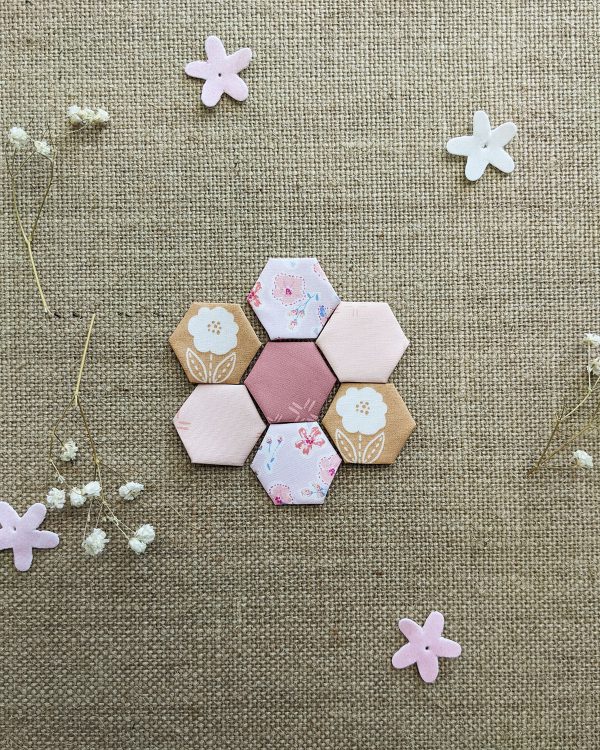 Start by stitching together fabric G with fabric A, right sides facing together with a whip stitch, just barely going through the edge of each side, not even 1/8'' of an inch in.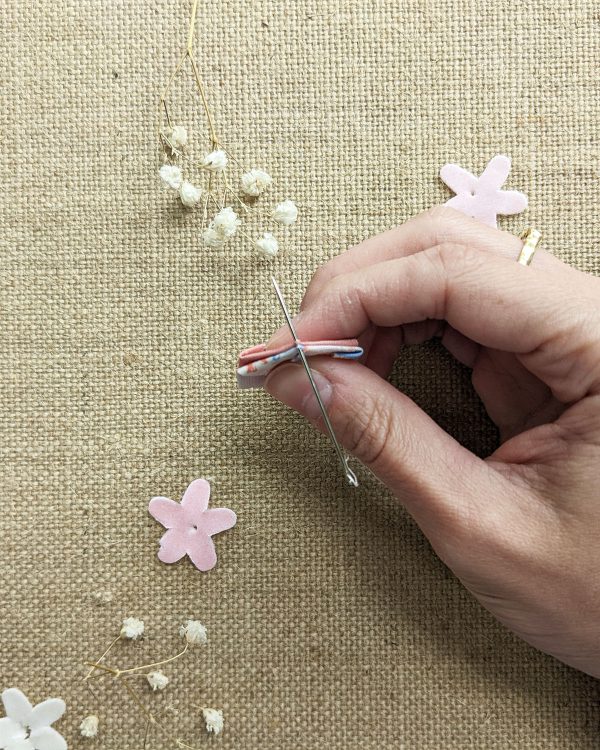 Secure your stitching with a couple of stitches repeated in the same place at the end of the hexagon side.
Take the next hexie fabric and repeat the same method. You need to fold the paper hexagons in order to stitch certain sides together.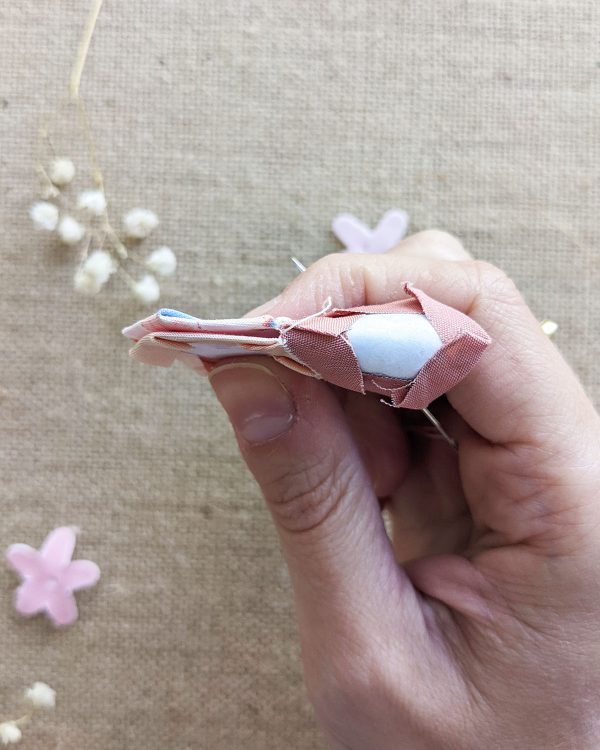 Your flower will start looking like this: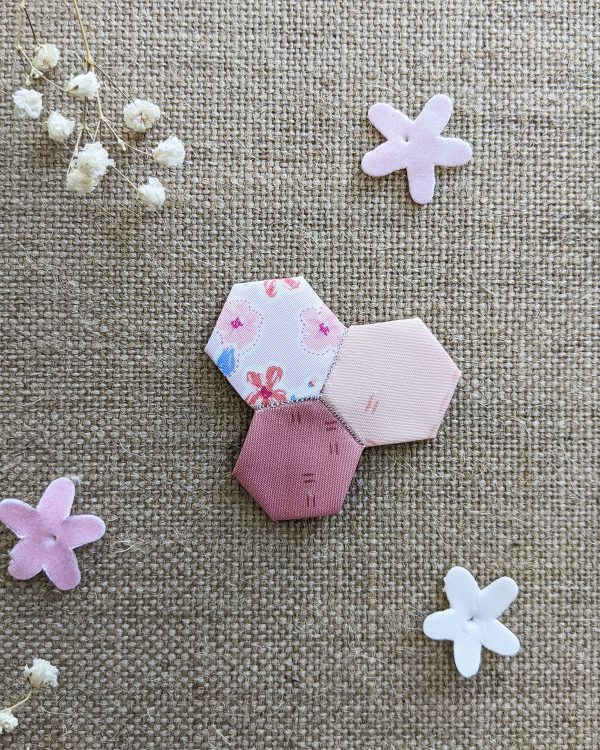 Continue until you create your first EPP flower.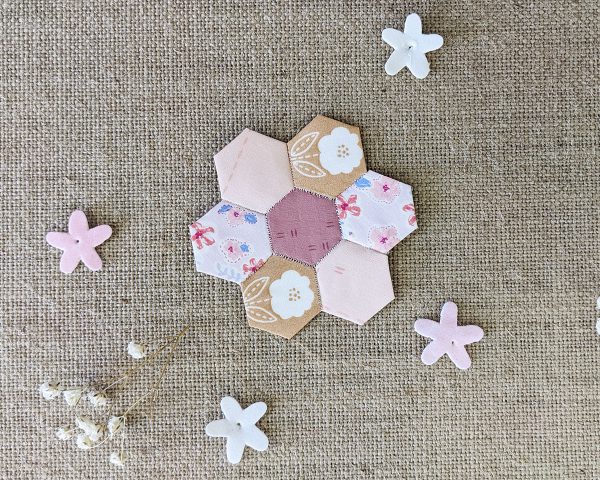 Step 5
Take two (2) fabric C, two (2) fabric D, two (2) fabric E and one (1) fabric H and repeat the same EPP construction, create your third flower.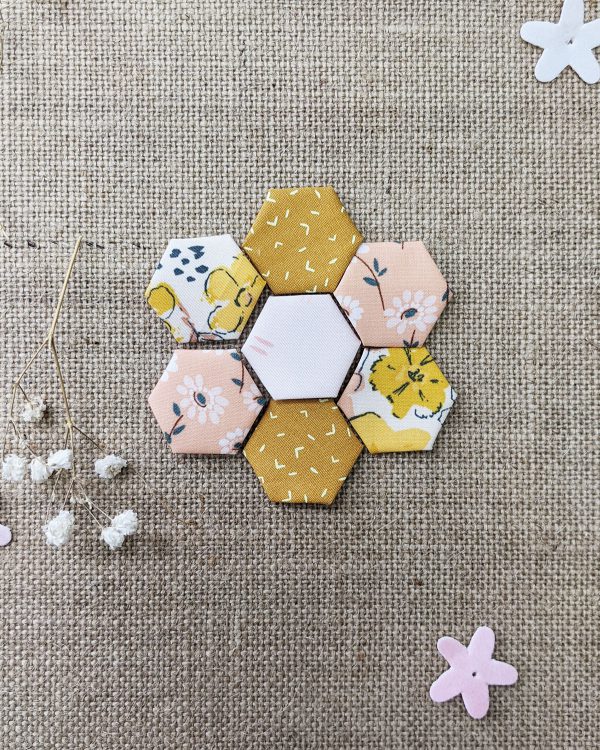 Step 6
Now, start removing the papers on each piece. Carefully remove the papers by lifting up the fabric on one side of the back of the hexagon and sliding your finger along to tease the fabric from the glue.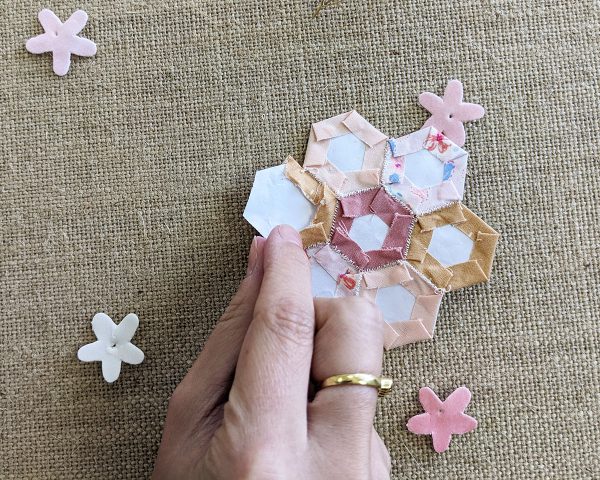 Press the back of each hexie with a warm iron.
Step 7
Take your batting rectangle and place it on the wrong side of fabric I rectangle.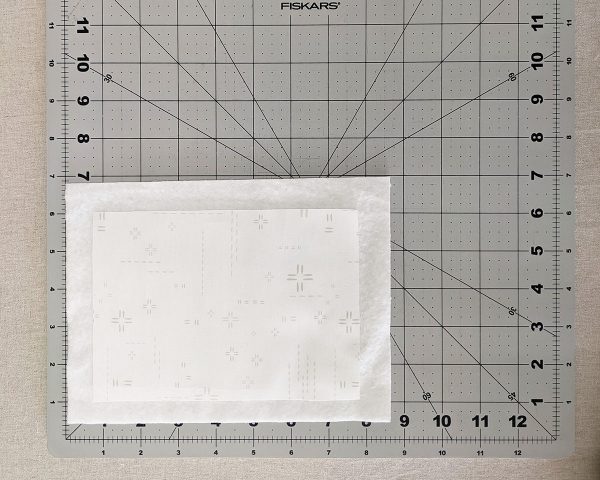 I decided to trace vertical lines at a 1/2" distance to quilt my piece and using the Reverse pattern Foot #1D I was able to make perfect stitch lines.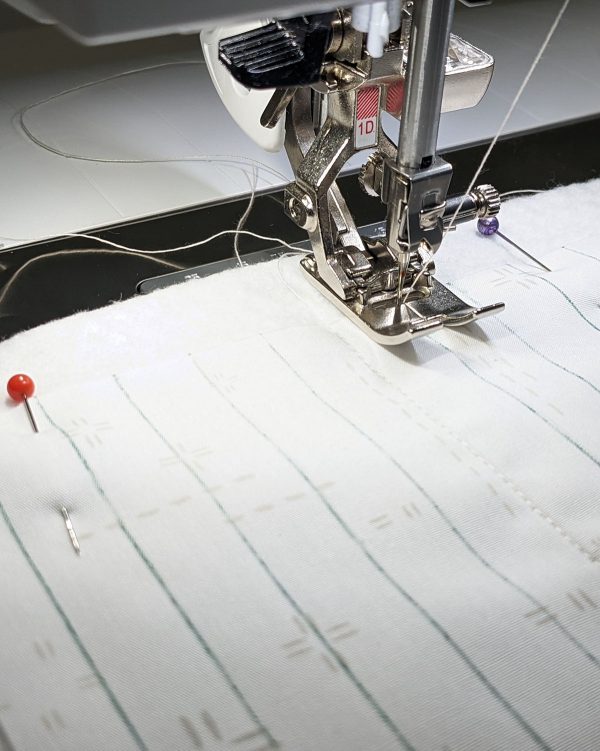 Step 8
Take your EPP flower and trace your flowers on the paper side of the steam-a-seam. Cut out the shape at a 1/4" in from the traced area. Press with the iron to secure the back of the hexies.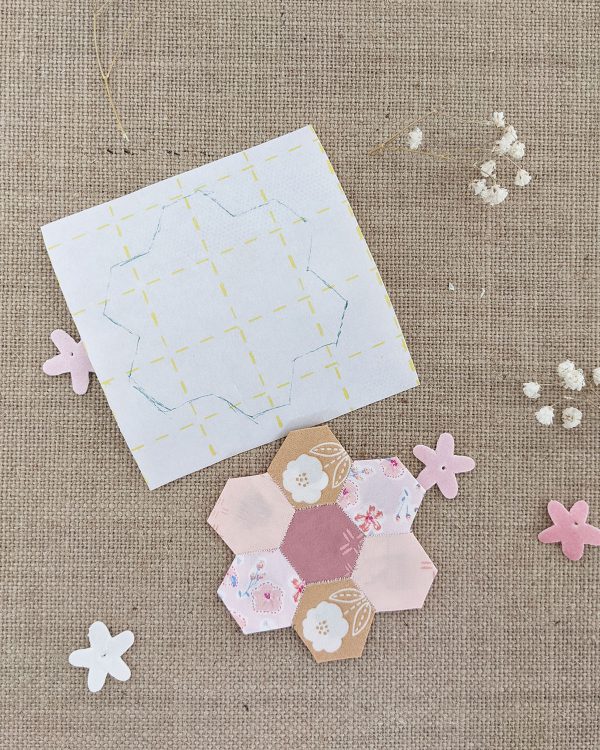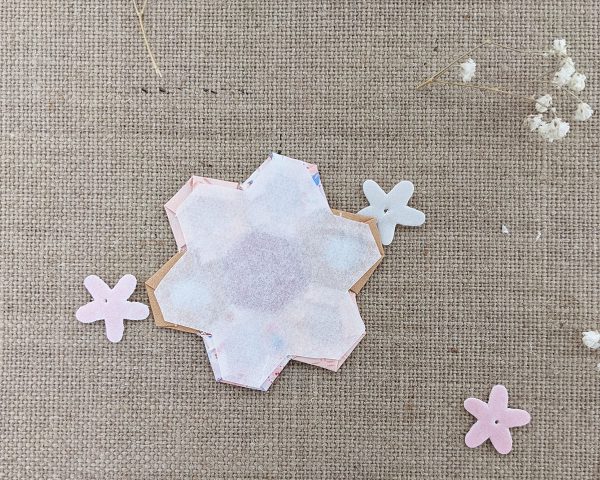 Step 9
Peel off the backing paper for each hexie flower and place it on top of fabric I quilted piece. Once you are satisfied with the position on the flowers, press with your iron so it sticks to fabric I.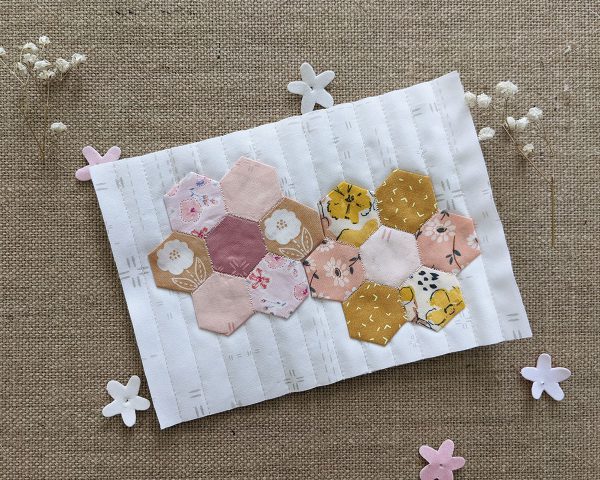 To secure your hexie flowers, edge stitch all around.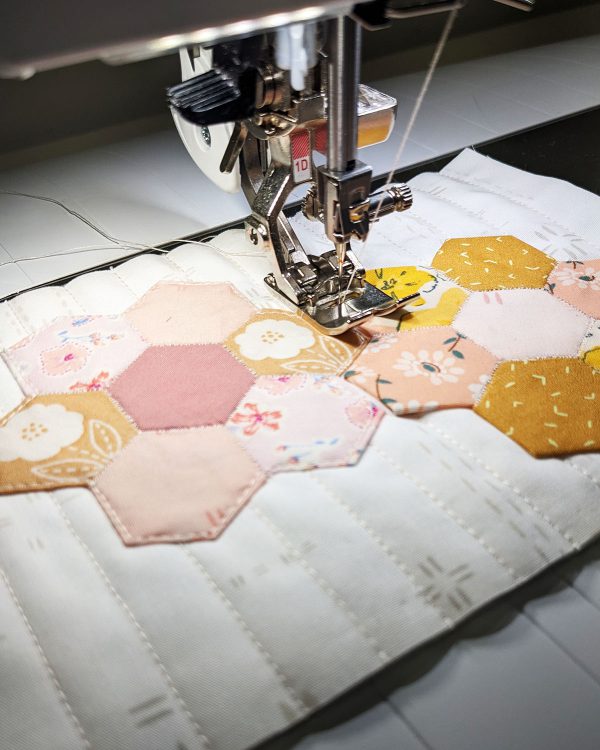 Step 10
Take one (1) 8 1/2'' x 6 1/2'' from fabric H and place one piece of medium weight interfacing. Make sure the interfacing is at least 1/4" less than the fabric H rectangle.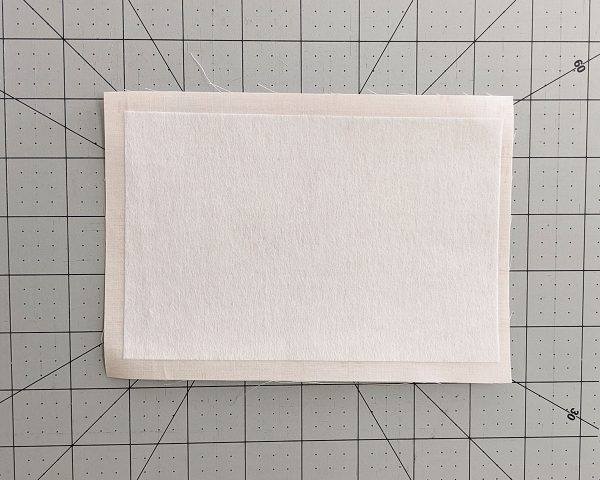 Step 11
Take a Frixion pen and trace a couple of lines. You can add more lines if you want to write a longer letter to mom.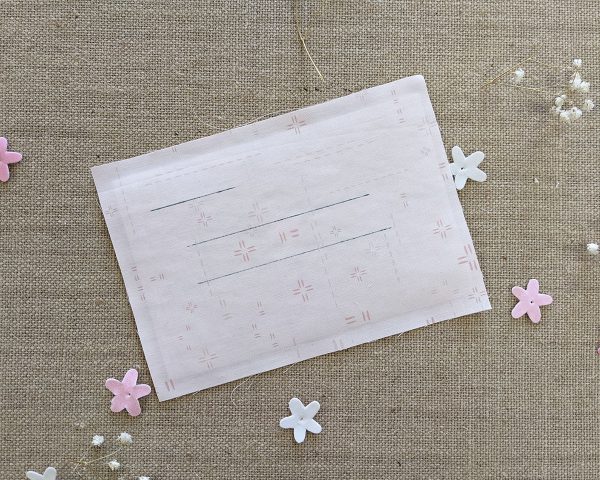 Take your desired color of embroidery thread and thread on the marked lines. Press carefully with the iron to remove the marked lines.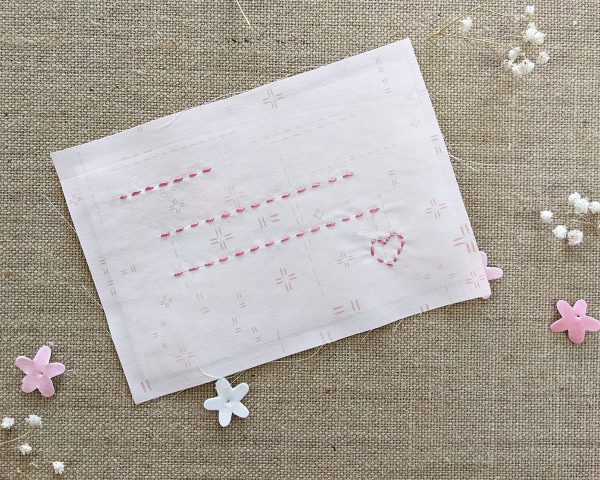 Step 12
Place both pieces wrong sides facing and pin around.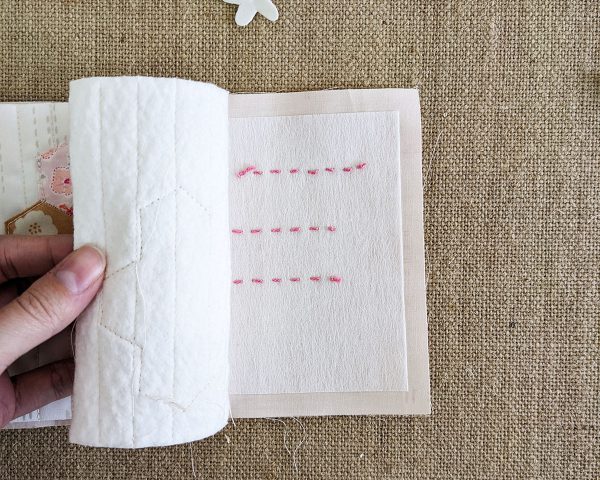 Finish the postcard with a zigzag stitch. What I did was to set my machine to a length of .10 and width of 4.5 to create a sating stitch effect.
Sew all around and then trim carefully the excess fabric.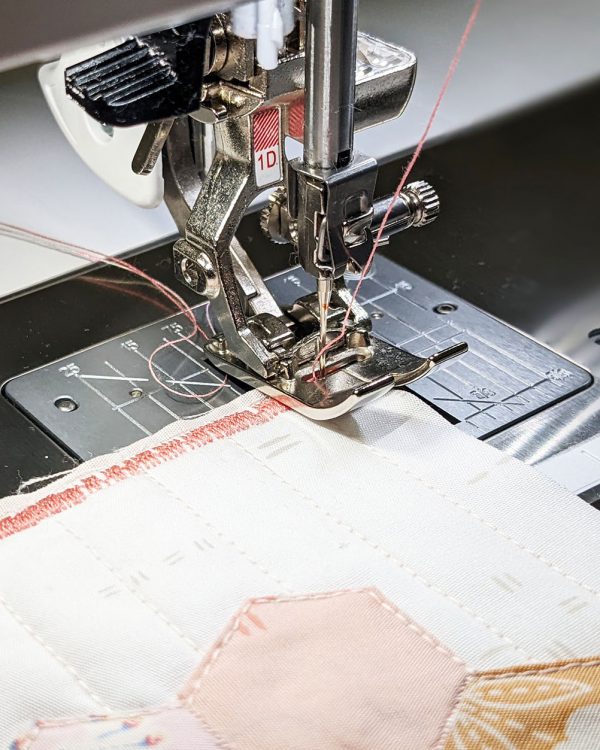 And voila! Write your letter to mom and send away your postcard!!!
Happy Mother's day!!!