Hiker overlooking an alpine lake and rugged mountains wearing a custom self-made backpack
Most everyone has heard the origins of mainstay brands such as Patagonia and L.L. Bean. These storied brands were born out of a passion for the outdoors by offering one handcrafted product catering to a specific niche. In recent years, with the high cost of cookie-cutter mass-produced products, coupled with a resurgence of the DIY culture, a diverse community of outdoor makers has blossomed choosing to Make Your Own Gear (MYOG). 
As "ultralight backpacking" and bikepacking are soaring in popularity, many weekend warriors learn to sew with a goal of making custom gear while stripping away weight from their packs. Stuff sacks are a common starter project, yet many home sewists strive to make their own backpacks, shelters, hammocks, rainwear, and even sleeping quilts. For the purists of ultralight backpacking, making your own gear is an eventuality in pursuit of achieving the elusive target base weight of 10 lbs for their carried gear. 
Technical Fabrics
Gone are the days of wishing for access to the technical fabrics used by big outdoor brands. Advanced low-weight waterproof fabrics for gear making are readily available in ½ yard increments at specialty sellers, most of whom ship internationally! No longer is Cordura Nylon and "utility nylon" the only option for home sewists. Innovative fabrics from sailmakers such as Challenge Fabrics and Dimension Polyant offer a new breed of technical pack cloth. Compared to nylon pack cloth, laminate fabrics are lighter weight, inherently waterproof, and within expected conditions, just as durable. Constructed of multiple layers, these fabrics are a combination of woven face fabric, ripstop reinforcement grid, a thin waterproof film, and/or a woven backing. Many are even printable, allowing makers to go wild with designs and colors.
In addition to laminate fabrics, composite fabrics are widely popular among outdoor gear makers and "gram counters", those seeking the ultralight status. Fabrics woven with Ultra High Molecular Weight Polyethylene (UHMWPE) such as Dyneema® Composite Fabric (DCF) and UltraWeave™ are the strongest fabrics for their weight and fully waterproof. DCF, formerly referred to as Cuben Fiber, makes exception shelters while UltraWeave is the darling of ultralight backpack cottage companies. While these innovative fabric options offer many benefits, cost per yard and extreme abrasion resistance may be a concern. For packs subjected to severe abrasion, 500 denier coated nylon is still a fantastic budget option. 
On the softer side of gear making, silicon-impregnated fabrics and uncoated ultralight ripstop nylons are readily available for making stuff sacks, sleeping quilts, and outerwear such as windshells or packable rainwear. Making your own sleeping quilts and puffy jackets has become popular using lightweight and thermally efficient synthetic insulation or ethically sourced hydrophobic down which can be purchased by the yard or by weight, respectively. 
Not only are these technical advances in fabrics great for makers but the availability in low quantities of these fabrics means just about any gear project is within reach. Further, these new fabrics are arguably more sustainable than typical "utility fabrics" as they are constructed using recycled fiber content and environmentally friendly durable water repellent (DWR) treatments, many being PFC-free.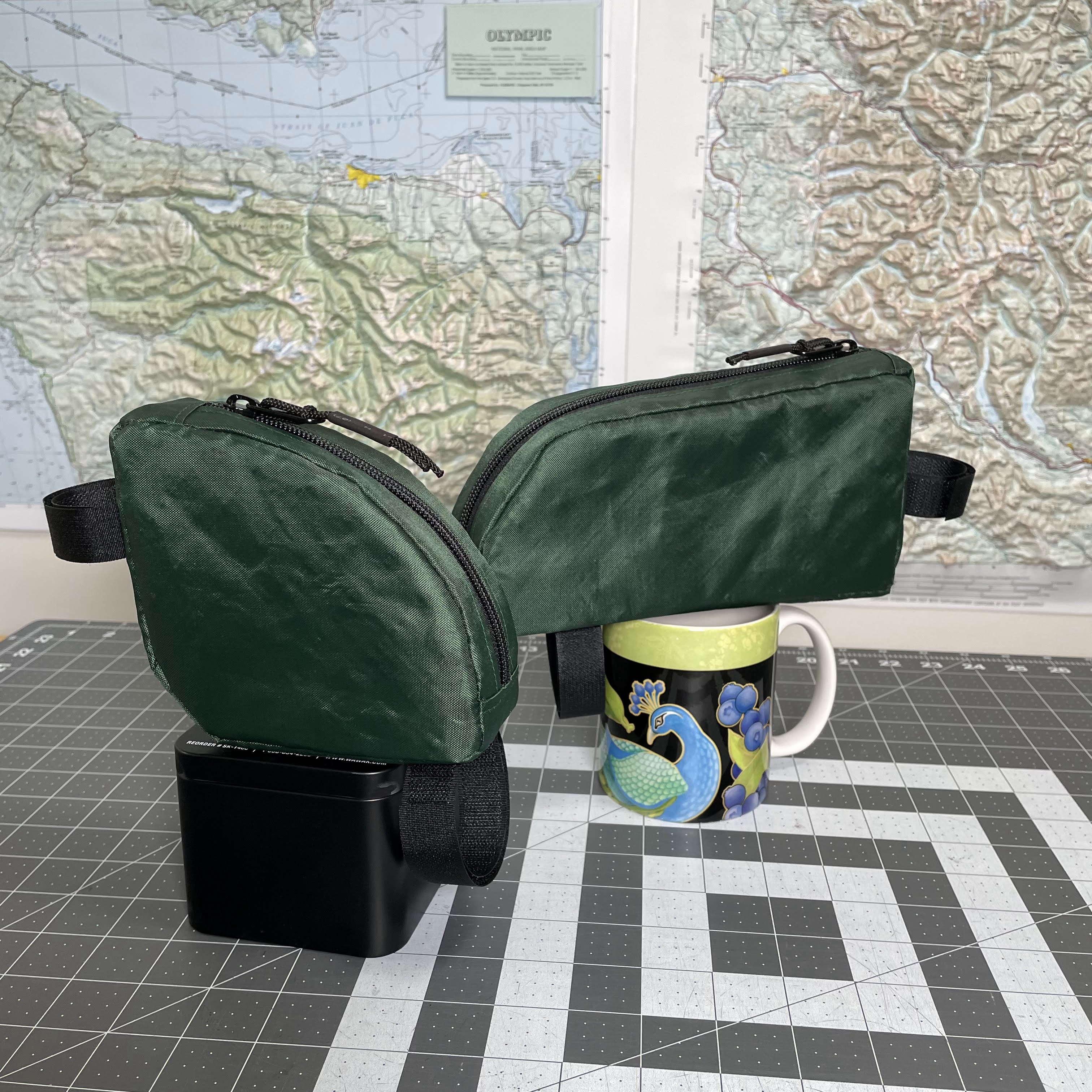 A pair of bikepacking frame bags made with EPX200 fabric lined with ⅛ inch (3mm) foam for structure
Making, Modifying, and Repairing
Make Your Own Gear (MYOG) embraces gear makers of all skill levels whether creating fully-custom niche products, modifying existing gear, or simply repairing worn-out or damaged store-bought items. Many will experience their first MYOG project by modifying their existing backpack to add a strap here or remove an unnecessary feature. Likewise, replacing a broken zipper or patching a small hole from a campfire ember may extend the useful life of a beloved down jacket for many more years of adventure. No matter how you get started in MYOG, there's a vibrant community to inspire and learn from. 
By far the most common question asked by those interested in MYOG is "what sewing machine is needed?". In my experience from learning on a handed-down computerized domestic machine, it's safe to say the barrier to entry is very low! While many experienced gear makers opt for industrial walking foot machines, the physical size, single stitch type, and heavy feed mechanism may not be an ideal choice for the home sewist. For those getting their first machine, don't discount the utility and versatility of a well-made domestic sewing like the bernette 05 ACADEMY. Capable of a wide range of sewing projects with multiple stitch types and accessories, the b05 ACADEMY is easy to store away when not in use and can be carried to local learning centers or sewing meetups. 
bernette 05 ACADEMY
A few sewing machine features stand out as being useful to gear making to make sewing technical fabrics a bit more approachable. As with making apparel the fabrics and materials for making your own gear vary widely in weight, stiffness, and sewability. Due to the coatings some can feel a little sticky while others are extremely slippery. Laminates feel stiff and a little thicker than canvas. For making outdoor packs, a versatile and powerful machine can turn a frustrating project into an enjoyable hobby!
The bernette b05 ACADEMY offers a few stand-out features and standard equipment that is unique among the small, heavy-duty starter machines available on the market.  
All metal chassis for strength and a bit of desk weight to reduce vibration. A no frills mechanical machine adds to the overall ease of operation. And the included slide-on extension table makes it far easier to manipulate large packs, balance heavy materials under the presser foot, and rotate the bag when assembling 3D corners.  

Presser Foot Lift Height of approximately ⅜ inch (10mm) permits sewing over webbing, sliding larger durable zipper pulls under the foot, or seam binding bulky seams.

Presser Foot Pressure Adjustment allows feed control with various technical fabrics from heavy weight pack fabrics to ultralight ripstop nylons. An optional walking foot attachment further helps with feeding slippery fabrics.

With a wide range of fabric weights, compatibility with needle sizes include #11/75 – 16/100+. These sizes accommodate common polyester thread weights of Tex 30 up to Tex 60 while punching through multiple fabric layers.

Basic utility stitch selections. Most projects only call for straight stitches, but a zig zag stitch can be used for impromptu bar tacks or hemming a stretch pocket. A selection of overcast and stretch stitches is useful for outdoor apparel using knits or for preventing raw edges from fraying.

A wide range of presser feet are available and many are included in the b05 ACADEMY bundle. The included zipper foot, edge stitch foot, and optional walking foot make any MYOG pack maker that slight edge in quality! The automatic buttonhole feature is a really nice addition for securing cinch cord openings in sacks and bag collars.

For those working with super ultralight fabrics, e.g. 10 denier ripstop nylon, the upcoming optional straight stitch needle plate will be a great addition to the b05 to ensure fabric doesn't get sucked down into the needle plate. 

Portability with a sturdy built-in handle, slide-on accessory drawer, and detachable electric foot control and power cord means the b05 is easily set up on the workbench or dining room table for those larger projects.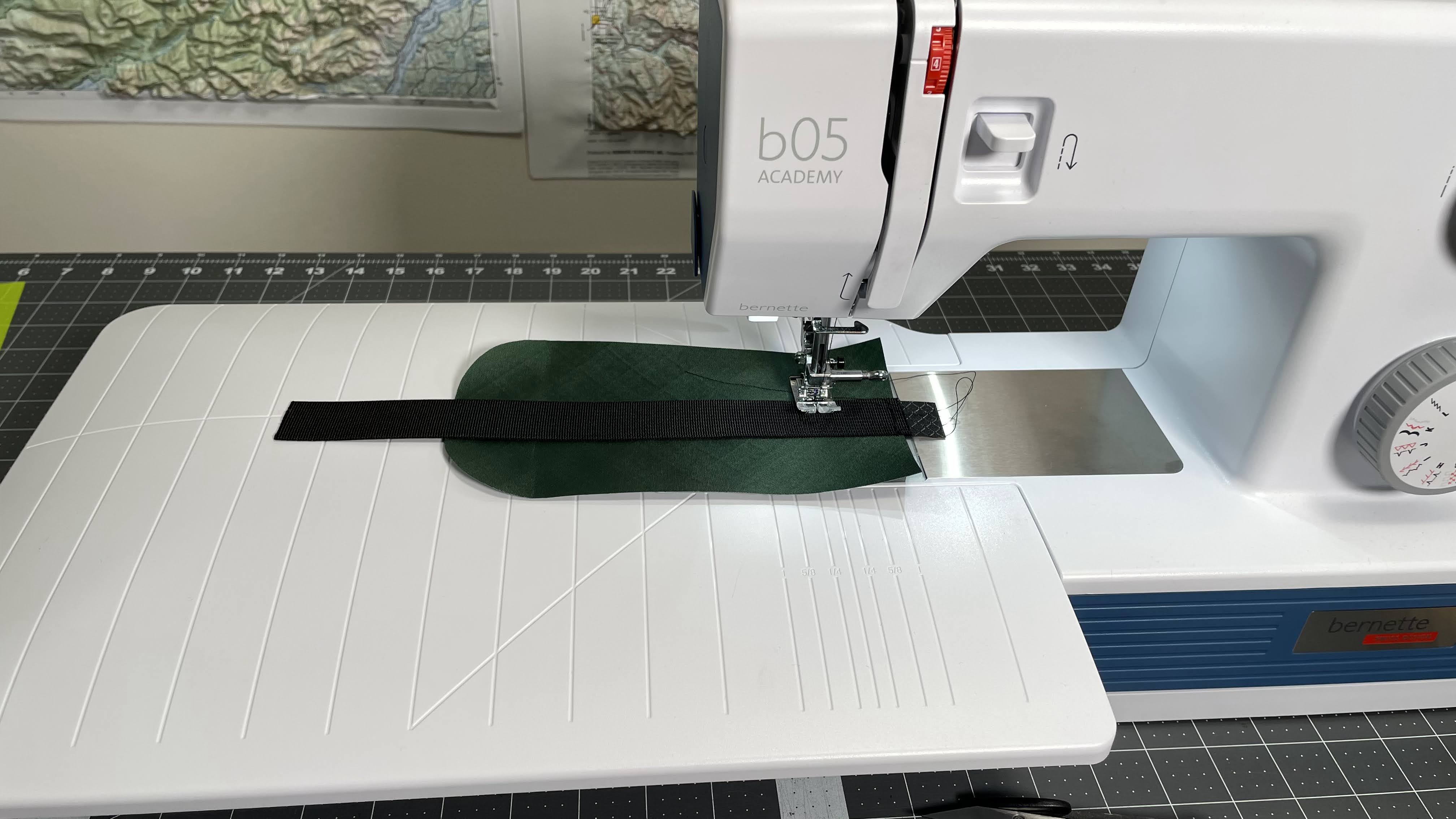 b05 ACADEMY sewing nylon webbing through two layers of 200 denier technical pack cloth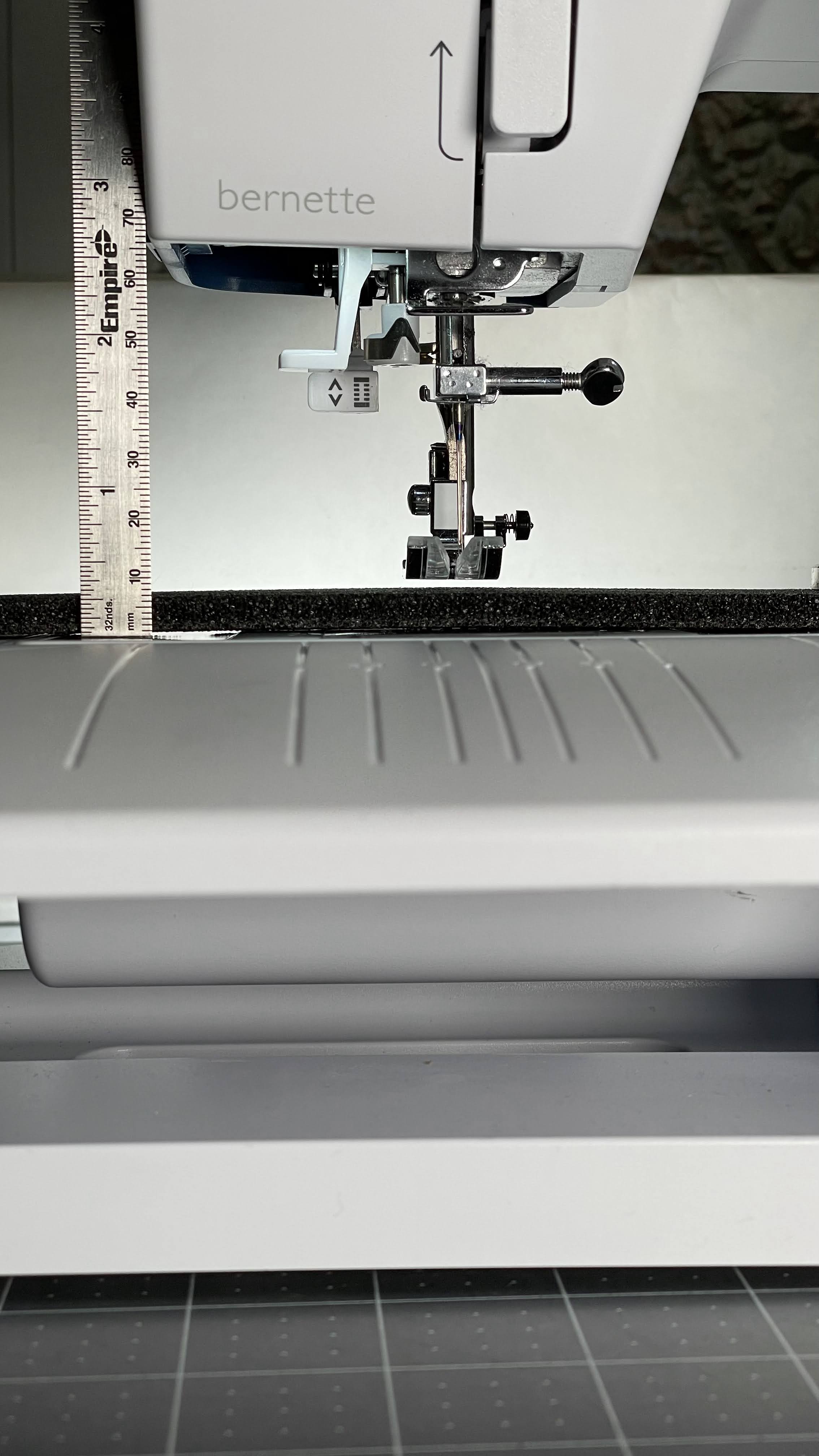 Maneuvering projects under the presser foot is a breeze with the extra high foot lift of the b05 ACADEMY shown easily clearing ¼ inch (6mm) foam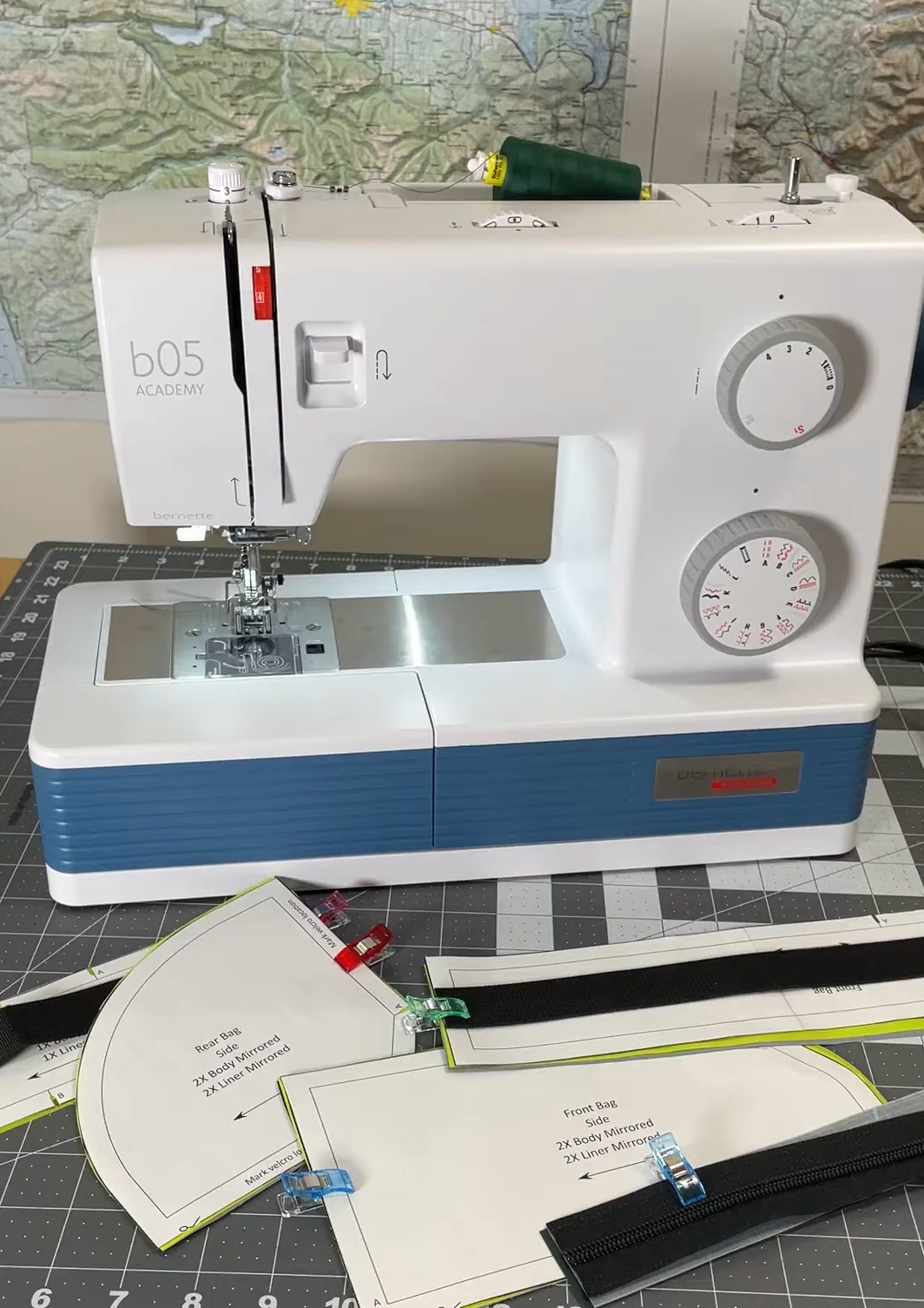 Small bike bag patterns are cut and ready to sew on the b05 ACADEMY
Functional Outdoor Gear Projects 
With summer hiking and travel season approaching, there's no better time to get started in MYOG. Here's a few low complexity projects to inspire your next adventure.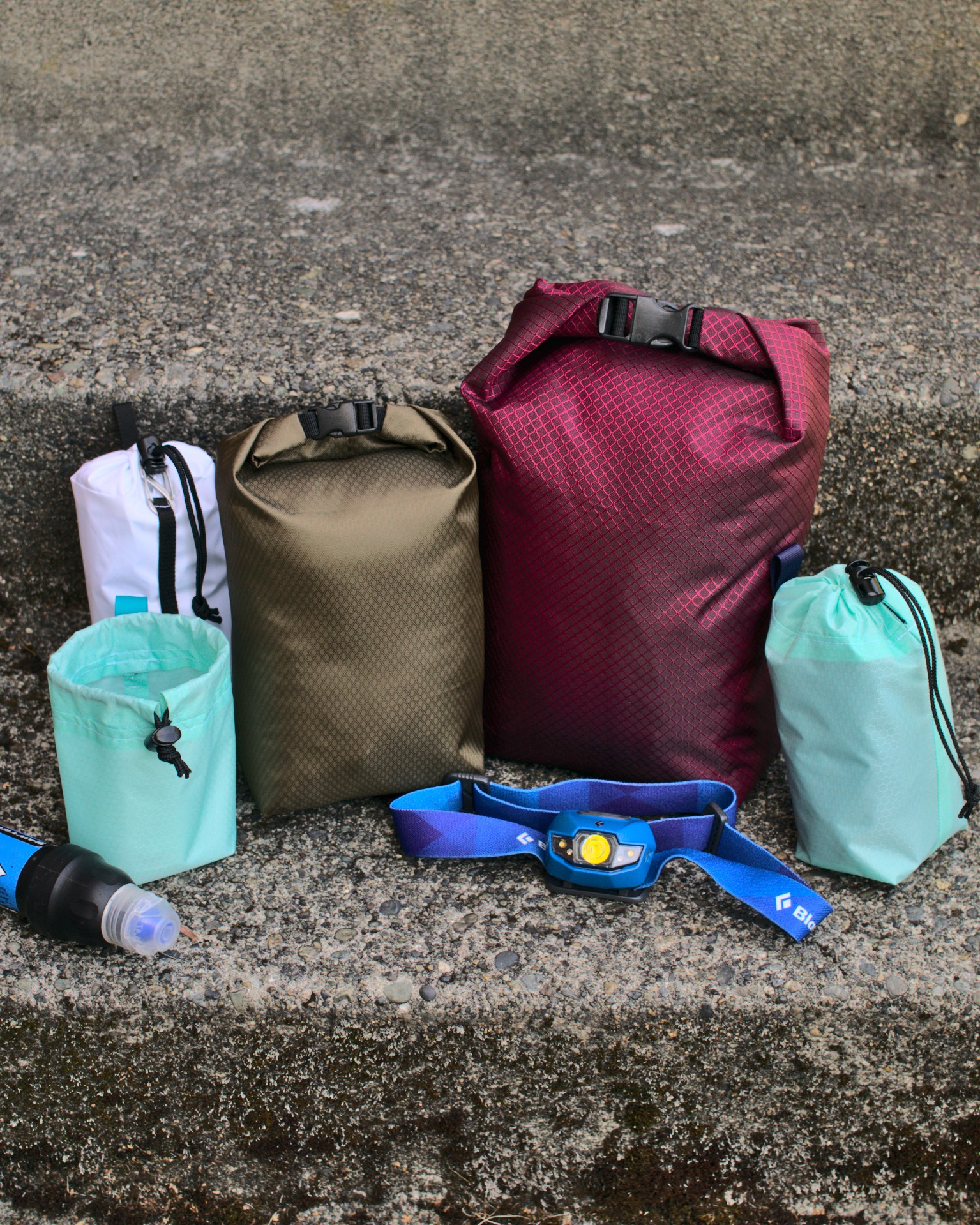 A small collection of MYOG stuff sacks and hiking gear storage bags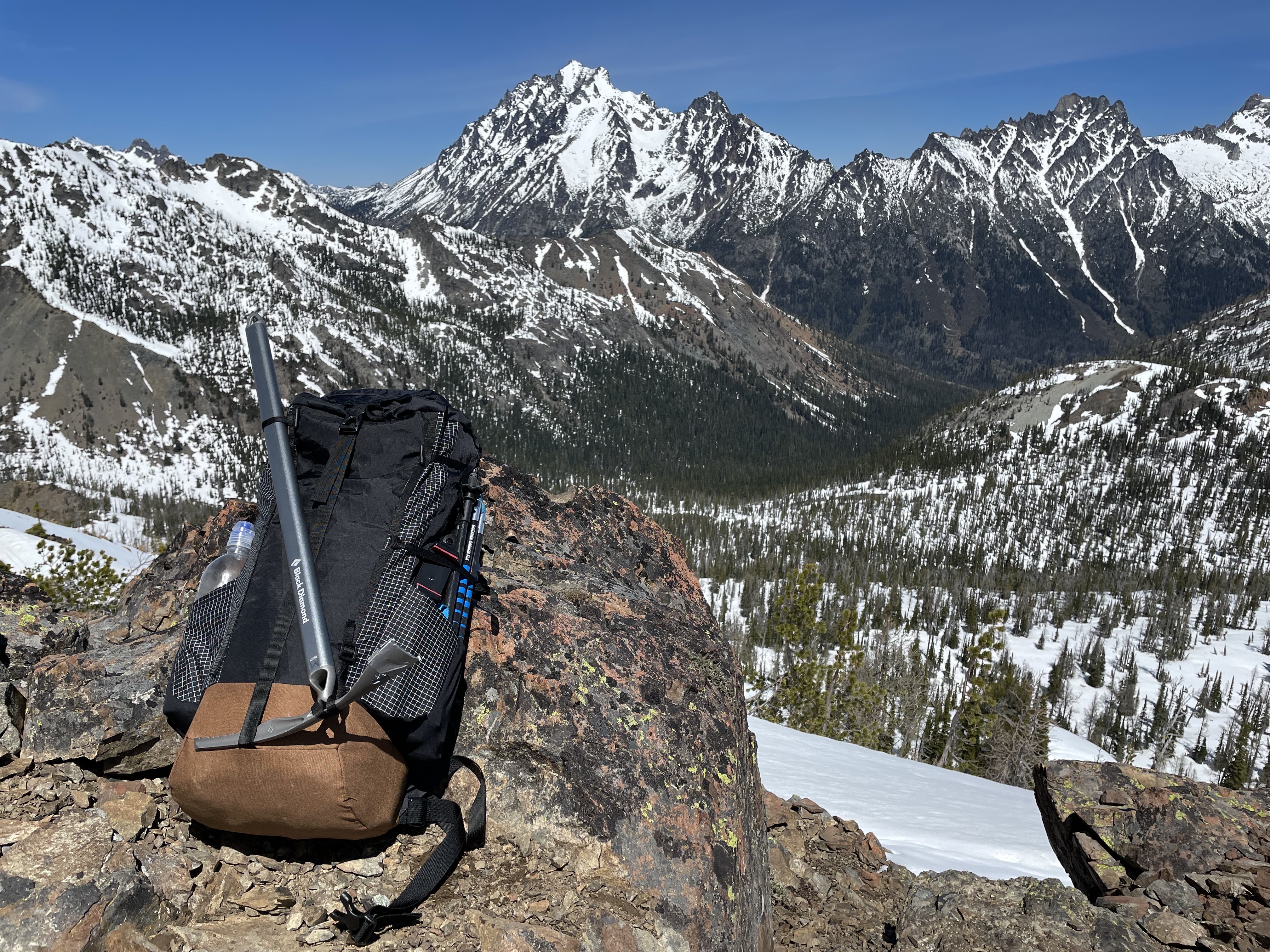 A mountaineers self-made backpack on a rocky summit with a view of snow-filled mountains
Projects

Accessories, backpack

Seasons

all seasons

Techniques

sewing